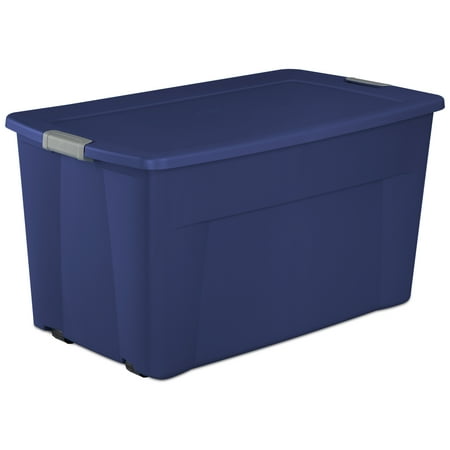 The Sterilite 45 Gallon / 170 Liter Wheeled Latch Tote is equipped with wheels, making it the ideal portable solution, even for heavier loads. Durable construction and contemporary styling make this a great item for storing household items in the garage, basement or attic. The lid fits tightly to the base and remains secure with the use of sturdy latches. Multiple totes are able to stack neatly on top of each other; and contoured end panels create a surface for comfortable lifting.
Overall Assembled Size: 36 5/8″ x 21″ x 19 1/2″
Equipped with wheels, making it the ideal portable solution, even for heavier loads
Designed for more durable storage needs
Heavy duty latches ensure lid remains securely attached to the base
Indexed lids allow for totes to stack neatly on one another
reviews
I liked these totes, they provided me with a lot of space to hide my kid's Christmas presents. The only thing I would have changed was the fact that the wheels did not come out far enough from the tote, I had to live the front end really high just to use the wheels. otherwise the price was great for the size.
Excellent product that only slightly tapered so it will hold a lot of items. The wheels work perfectly.
Bought four of these for storage. Nice that they have wheels on one side so that you can roll it. So much better to roll it if you have heavy items stored in it.
I purchased 2 of these a few months ago since I started purchasing things for my first home and needed a place to store dishes, kitchen items, etc. They have been in the garage in Florida which gets very hot and humid they do great keeping the moisture out. Now that I am finally moving to my own place I needed something that I could move 2 bedrooms worth of stuff college books, clothes, pet stuff, toiletries, etc. I also wanted something I could reuse for seasonal decorations that I will aquire and remembered these totes. They are perfect for moving! Everything fits nice and neat and even when packed to capacity with dishes they move easily and safely on wheels. I just ordered 3 more to finish my packing. Mind you I'm a small female so the wheels help with the moving since I don't have too many people to help with the process.
This was just big enough to transport my transmission to the shop out of town to keep the Ford Escape clean now I can use it for storage
Holds a lot, kept things dry for the long drive in the back of pick up truck through rain storms.
Use these to store my seasonal decorations. Lots of room in the tote.
Not strong
Sterilite 45-Gallon Wheeled Latch Tote, Stadium Blue, Case of 4:45-gallon capacity with hold all your seasonal items, files, bedding and moreDurable construction makes it ideal for storage in your bas...