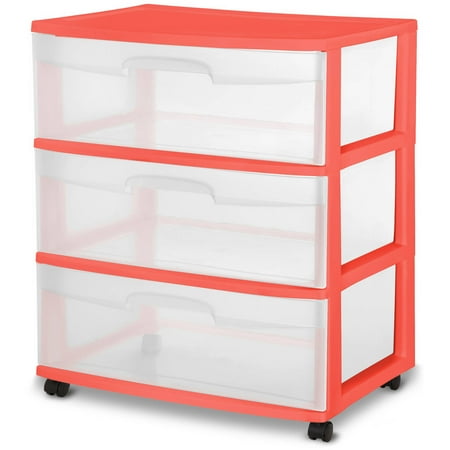 The Three-Drawer Wide Cart features three wide, see-through drawers that allow for easy identification of contents. This cart is ideal for organizing clothing and linens in the bedroom and bathroom. Casters are included to create a rolling storage option.
Sterilite 3-Drawer Wide Cart, Multiple Colors:
See-through drawers
Ergonomic handles
Casters provide a rolling storage options
Dimensions: 15.25″L x 21.88″W x 24″H
reviews
shipping was so quick! This drawet unit is perfect inside my closet to store my children's winter accessories & boots
I just received 2 of these 3 wide-drawer carts on wheels. One is in my bedroom – and I keep lots of post-it-notes, boxes of staples, rubberbands. In the bottom drawer, I keep a 3-hole binder with information that I need to look at occasionally. Downstairs, in my living room, I use the cart to hold a couple of rolls of tape, 2 reams of paper for my printer and pendaflex hanging folders. I only have a few folders, so I laid it down in the drawer — as this cart doesn't accommodate the folders. I got the white (my previous carts were black) — attractive and just what I needed.
I bought 2 sets & have 3 all together. I have 2 stacked & one standing alone & really love how roomy the drawers are. I also like the fact they have clear drawers this way there's no guessing what's in the drawer. Great for clothes, art supplies & more.
Good as it can be, people remember this are plastic no wood. I have 6 in total, I just ordered 1 more last week. The shipping was fast, I got it in 3 days. Super affordable, i never use the wheels but they came complete, nothing was broken or chipped. The drawer came in a big box and doesn't required for you to put it together.
Got this to organize my closet. It fits perfectly and strong enough to keep things from dust. I'm very satisfied.Good for the price.
Be sure to add the casters for ease of movability, and note that adding too many heavy items (like too many video cassettes or DVDs will cause sticking problems. So, you know, don't overload and you'll enjoy this product.
I purchased two of these at the same time. These storage containers are nice but I had to return one because the casters were missing. Seriously? This was one of main selling points of this item and the company can't see to it that it's packed correctly?