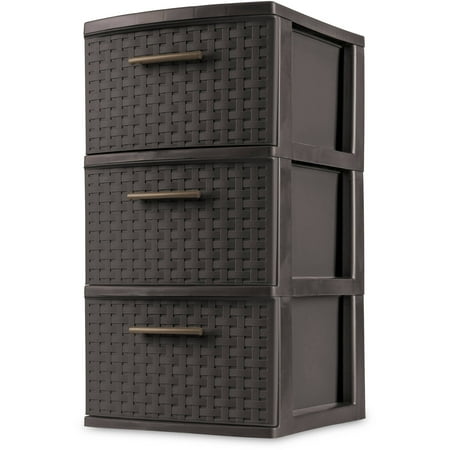 The 3-Drawer Weave Cart is a versatile storage solution that is ideal for use throughout the home. Opaque drawers keep frequently-used items concealed. The drawers include easy-to-pull handles with drawer stops that prevent them from being removed accidently.
Sterilite 3-Drawer Weave Cart, Espresso (Available in Case of 2 or Single Unit):
Opaque drawers
Easy handles
Drawer stops to prevent drawers from being removed accidentally
Warnings:
California Proposition 65 Warning: WARNING: This product contains chemicals known to the State of California to cause cancer and/or birth defects or other reproductive harm
reviews
This really serves the purpose, just which it was a little taller. It does serve it purpose/ I have a very small kitchen needed extra storage space
Used for bedside table in guest room and it looks great given it is plastic. It is a nice dark brown color. For the price, you can't beat it.
FOR THE PRICE, THESE ARE PRETTY GOOD. THEY ARE AS LISTED.
I am going into my 3rd year at college, and these drawers are one of my favorite purchases so far. I had the typical cheap and low-quality plastic drawers my first year, and after the drawers were totally broken I decided I needed new ones. I was expecting to have to settle for another cheap plastic option, but at the last minute saw these. They are honestly so great. They look much nicer than the clear plastic ones, hide your stuff, and get the job done. I bought 2 and stacked them on top of each other. I did end up putting a little heavy duty tape in between just in case, since I load up my drawers like crazy. Highly recommend for any college student!!
Great buy. I love the appearance of this cabinet. I bought 2 and used them in my bedroom. They blend in nicely with my furniture. My husband uses one for his side of the room; I use the other for miscellaneous items; socks, scarves, etc.
I bought these to organize the mass quantities of craft supplies my daughter has accumulated. Perfect for it!
Nice and study.bought it to hold all my haircare products and hair accsessories.does the job.
Very handy. Draws are spacious enough for anything within weight/size reason . I bought two! They came assembled. I am using one as a night stand. The other for my light weight tops, because being a women there is never enough drawer space :-). I like them. Thinking if I can use more…ta
I bought 2 to serve as very narrow bedside stands. Perfect height but a little wobbly as expected. The top drawer has a bump in the back (by design) that makes it not as smooth to close but once I figured out what was going on I adjusted.
Top draw sticks, need to hold the whole thing down to open a drawer. Not very sturdy at all. I should have tested it before I picked it up from the store but it was taped shut. I don't think it was the manufacturer issue as much as I think it was the store I bought it from, or the way it was stored during travel.