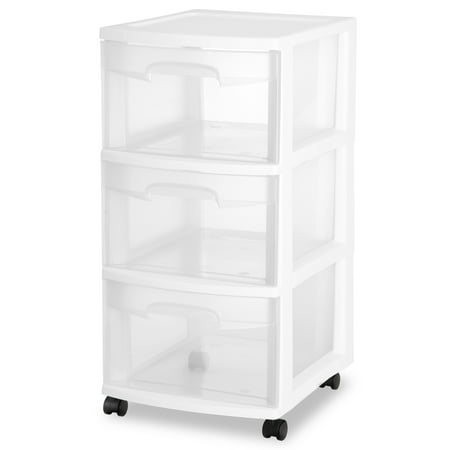 The Sterilite 3 Drawer Cart offers a practical storage solution for any room of the home. Organize and store a variety of household items that are frequently used in the bedroom, kitchen / pantry, bathroom, craft room, nursery or dorm room. Clear drawers allow contents to be easily identified while keeping them neat and contained. Drawer stops prevent drawers from being removed accidentally. Use the included casters to create a rolling storage option.
Overall Assembled Size: 14 1/2″ x 12 5/8″ x 24″
Multi-purpose and versatile storage option for any room of the home
Clear drawers allow contents to be easily identified
Easy pull out handles with drawer stops to prevent drawers from being removed accidentally
Casters are included to create a portable storage solution
reviews
It's a great place to hold extra things that you may not have room for in the bathroom or in your bedroom etc.
I like that you can remove the top to add more on top. I use these in my workshop three high. iIcan get a glimpse of what is inside, and helps me keep my workshop organized.
Excellent for extra storage. And it came already assembled. With the wheels, I can move it to where I need it. Incredibly helpful.
Perfect for storage. Great for small spaces. Came in perfect condition.
Bought two for my crafting stuff. Fits in my closet and rolls when I need it out.
These are a teachers best friend! I love that you don't have to use the wheels and they are still a perfect height for school desks! I am going to order 2 more!
I love Sterilite's 3-drawer cart that I use under my desk at work. My office is small but I am organized. This 3-drawer cart fits easily under my desk and within my reach. It easily hides my snacks and keeps them safe and allows me to keep paper and files organized and off my desk.
This storage item was sure handy to have in my bedroom. It is a bit light weight but it is perfect to keep small items in. I like that I can see inside and know what is there, such as small accessories and other items I do not want to keep out. It is very simple and blends in very well. It has a small profile but surely met my needs.
I ordered quite a few both wide and regular 3 drawer and 5 drawer carts and I am disappointed in all. Quite a few arrived with broken or cracked drawers. I have had to reinforce the wheels on all of them and finally after just a few months use (I just put things in them a month ago) they are falling apart with not much stuff in them. I bought enough to redo all my craft and office supplies and now I must redo them again. Very upset with all of the products.