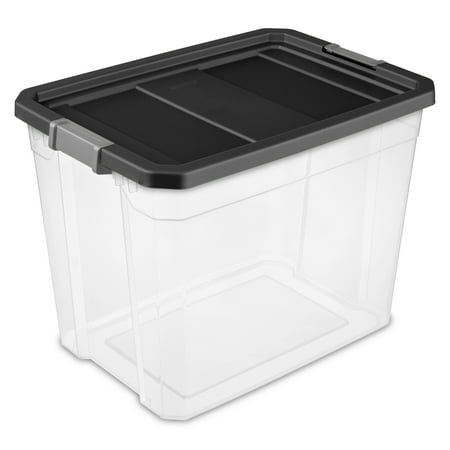 The Sterilite 27 Gallon / 102 Liter Modular Stacker Box is ideal for those customers who want the ability to quickly identify contents yet need a durable storage solution. Heavy duty latches keep the lid attached to the base and ensure items remain safely stored inside. The deep indexed lid allows multiple Stacker Clear Boxes to stack securely, and because it is modular, Stacker Totes and Stacker Clears are able to stack interchangeably. This Modular Stacker Box is ideal for storing larger, bulky items in the basement, garage or attic.
Overall Assembled Size: 25 3/4″ x 18 3/8″ x 19 3/8″
This durable storage solution allows contents to be easily viewed, ideal for garages, basements, attics, and more
Heavy duty latches help to secure the lid to the base and provide a comfortable grip surface
Deep indexed lid surface allows multiple totes to stack securely
Stacker Totes and Stacker Clears can stack interchangeably
reviews
I love these storage bins. I have both the 19 gallon and the 27 gallon ones. I like the way the lid is made so the bins can be stacked easily. I have used mine for about 6 months or so with no problems. My holiday decorations, my scrapbooking supplies, and my fabric stash are easy to see through the clear container so there is no guessing as to what is in there. The 19 gal bins easily fit in my closet above my hanging clothes. I was given an old, very heavy set of dishes that I put into two of these and the bins haven't cracked as of yet.
make sure the upper rim of the case is in perfect condition. I've occasionally found a cracked rim due to dropping or bad handling; these will continue to crack and will not hold much of any weight either inside or stacked. Other than that, the translucent sides and very well designed lid make for a great long-term storage container.
Excellent size and easy to stack up and store! The price is a little high… but there is nothing better than this!
Used these to pack up food / supplies for a week long trip and they worked out perfectly!! Very durable and good quality.
I have 8 of these totes. I use these to keep my camping stuff in the shop. The 19 gal holds a sleeping bag and these 27 gal hold a queen and twin air mattress. With them being clear when we tent camp I can see what is in the totes and just pull the ones I need off the shelf. With the latch style lid they don't blow off and when camping the little critters can't get them off. They are great to keep the kitchen items such as paper towels, plates and silverware so the little critters cant get to them. Also when it rains my stuff has stayed dry.
I am in the middle of packing these to store I live in country worry mice would get into cardboard containers
If you want a storage container with handles that come off and a lid that cracks and breaks, this is the one for you.
Sterilite 27 gal Stacker Box, Black:27 gal stacker boxDurable latchesIndexed lid for easy stackingClear storage box base with black lid