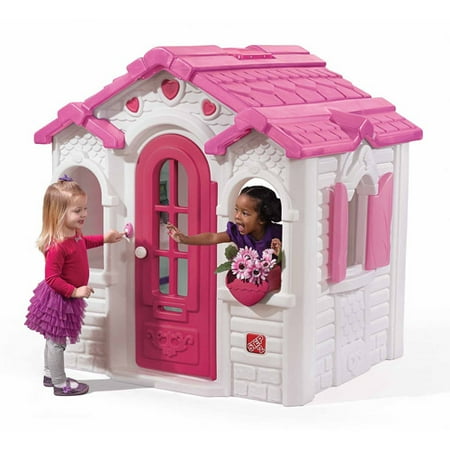 Give little ones a spot for long periods of pretend play with the Step2 Sweetheart Playhouse. Made of sturdy material, it is a charming, gingerbread-style cottage. It features a heart-shaped flowerpot and a full-sized door for easy entry. Working shutters and a decorative roof skylight let in the sun for illumination. Inside the kids playhouse is an electronic phone, a clock with movable hands and a convertible range top that flips over to become a pretend barbecue grill with clicking knobs. An electronic doorbell makes a realistic chime sound when pressed. A roomy interior offers room for multiple kids to play. Four AAA batteries are required for operation of the electronic components, and this playhouse toy is easy to assemble. It is recommended for ages 2 and older.
Step2 Sweetheart Playhouse:
Charming, gingerbread-style cottage for loads of imaginative play
Features a heart-shaped flowerpot, full-sized door, working shutters and decorative roof skylight
Inside there is an electronic phone, a clock with movable hands and a convertible range top that flips over to become a pretend barbecue grill with clicking knobs
Electronic doorbell with realistic chime sound
Roomy interior will last for years of imaginative play
Assembles easily with minimal hardware
Playhouse toy requires 4 AAA batteries (not included)
Recommended for ages 2 and up
reviews
I was impressed with the quality and charm of this playhouse. It is just a perfect look and fit for my daughter's backyard secret garden!
I bought this for my daycare and they love it, thought for the money it would come with a little more accessories, also seems a little on the small size, but overall the kids are loving it, would still recommend to anyone with little children. Step 2 is great.
My 2 and 3 year old daughter's love this house from the moment Santa left it in our living room. My oldest daughter has a condition so we are currently keeping the house inside in our living room. They spend hours putting their babies inside and we were able to fit a little mini market so they can play inside as well. All we hear is lots of happiness and happy sister bonding. We love the material is very sturdy and safe so they don't get hurt at all! There was a little damage to the door when we purchased it but I called customer service and they were extry pleasant and helpful. We got a replacement part within weeks! Two thumbs up for a great product and awesome customer service!
I have the older model of the sweetheart playhouse given to me by a friend. My great niece and granddaughter love playing in it so I bought my granddaughter one to have at her house. The phone is barely audible as well as the door bell. The old model does not have stickers on the stove/grill that flips but is all plastic. I was very disappointed to see stickers on this part because it is exposed to outside elements. Also, the stove top sticker did not go on well (feels like something underneath) so I'll be contacting the company for a replacement. After this many years you'd think this model would have added a floor, especially since the price is well over 300.00. The price plus the fact the stickers will not hold up to the weather and lack of a floor I couldn't give this product a 5.
My granddaughter loves her new playhouse. She loves spending time in it.
Beautiful little house that just lightens your heart. Not too big not to small, extremely easy to put together (I did it alone, single mom) and it only took me a half an hour. I carried the pieces individually up a flight of stairs so that tells ya (I'm 5'2, 150 pounds).
Product was very easy to assemble! Great for even my 15 month old. My three year old daughter is loving her new toy!!
Finley turned 2 this year. Now, that may be a normal feat for little ones, but Finley was born weighing less than two pounds. This little micro premie spent 2.5 months in the hospital. To make it worse, the hospital was over 2 hours from her home. So, as you can imagine, this was an amazing celebration. Finley loves her playhouse, and can't wait to play in it each day. Her Dad said that it was quite easy to assemble. Could that be because he worked for Walmart assembling products while attending college. I would recommend this playhouse.
this playhouse needs to have a floor! There should be a kit to put in a floor! Other than that it is a great playhouse. Any suggestions on what to use for a floor in it ?
Step2 Sweetheart Playhouse
Electronic phone, clock with movable hands, and a convertible range top that flips over to become a pretend grill with clicking knobs Electronic doorbell with realistic chime Roomy interior