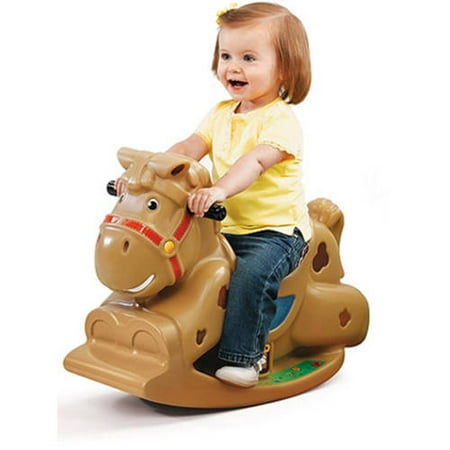 Bring home Step2 Patches the Rocking Horse and watch your child jump with joy. This is a fun and durable toy for developing kids who are 12 to 30 months. This rocking horse for kids gives your little one the feeling of riding on a real pony. The simple and sturdy toy has a contoured seat with easy-grip handlebars for stability and maximum rocking fun. This cute Step2 rocking horse has a smiling face and other fun details. Kids will feel like real cowboys or cowgirls while they are developing motor skills and strength. This whimsical and cheerful Step 2 Patches the Rocking Horse will keep them entertained for hours on end.
Patches the Rocking Horse:
Rocking horse for kids
Classic rocking horse with a cute new look
Adorable pony character gives this toy a warm appeal
Contoured seat with easy grip handle bars
Suitable for 12 to 30 months
Assembly required
reviews
Yes, it is good to "Enter Sweepstakes" but it is also true that this rocking horse is ideal for our 22 pounder little boy. After two tries he could get on his horse all by himself and safely rock to his heart's content. The horse provides excellent exercise and a soothing rocking that is an added plus. Excellent. We did not use the stickers and the horse was just as cute.
Very cute, my grandson and sisters baby love it
shipping time=not great, a full week. Customer service placing the order by phone= efficient and personable: very good. Hit with a one year old and his daddy= Priceless! Safe, comfortable the first time on and smiles all the way around.
Happy with the rocking pony. moderate, safe rocking motion for the smaller child. sturdy plastic, good proportions. image details through stickers.
My 1 year granddaughter took to this rocking horse immediately!! She absolutely loves it! Easy to wipe off too!!!
Very pleased with "Patches the Rocking Horse" Our grandchildren absolutely love "him" ! The great quality for a very reasonable price…….
Even though the horse is plastic, it seems very sturdy.
this plastic rocking horse is so wobbly, that it is hard for the child to stay on without falling over, the stickers (eyes, nose, etc) come off in the heat. not a good buy to me.