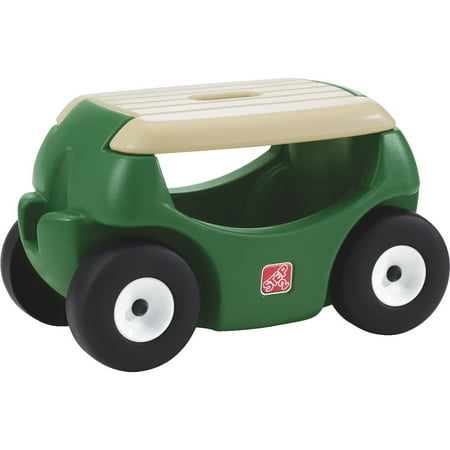 This workseat has smooth rolling wheels, a molded-in seat with handle for easy transport, a large storage space underneath with easy access and a built-in beverage holder.
Step2 Garden Hopper, Green:
Workseat with 7″ smooth rolling wheels
Molded-in seat with handle for easy transport
Large storage space underneath with easy access
Built-in beverage holder
Sturdy double wall construction
Fully assembled
3-year warranty
Dimensions: 13″L x 23″W x 13″H
Model# 534800
Warnings
:
California Proposition 65 Warning: WARNING: This product contains chemicals known to the State of California to cause cancer and/or birth defects or other reproductive harm
reviews
I have worn out 3 of the older models of these step 2 garden hoppers because I have a brace on my left leg and I do gardening sitting and rolling…I like the fact that the sides are open and I can reach things while I'm sitting on it (unlike the older model where the seat opens and you have to stand up and the space under the seat is smaller). That being said, the only reason I can't give a 5 is because of the wheels. I only weigh 180 and the older model wheels were solid in and out and these wheels are only solid on the outside and open on the inside and I'm worried it will wear out sooner because I use it a LOT… have a blessed day!
The Garden Hopper is a wonderful toll to take the strain off your back and knees. I use it when I remove weeds around a fence.
Used mainly for gardening. Helps not to bend over while standing. Be careful though you sit down right in the middle or it might buck you off !!!
Great item, use it while detailing cars. Excellent quality!!
Great garden transportation for a 80 year old gardener who loves attend to his flowers and herbs on a daily basis. It is the right height for tending to weeding, planting, trimming, cutting, spraying where I don't have back or leg problems. The handy cart allows me to place tools in the built-in tray and the bonus cup holder for my early morning coffee. My neighbor saw the cart and I let him try it for 2 days .The 3rd day I found my cart outside my garden area with a thank you Hydrangea plant and noticed a new garden hopper in his yard. I think he went to a garden supply store and purchased a new garden Hopper. You now have 2 happy senior Garden Hopper fans.
Great product and great value. My wife uses it in the garden and loves it. Sturdy and convenient to use and easy to store. My wife liked it so much that she bought one for our neighbor!
ANyone out ever received this product without wheels? Pulled it out of the container for my mom and guess what. A big body and nothing else. No wheels, no axles, and not nuts for keeping the wheels on. SPoke with customer service who assured me they would be shipping everything. Two weeks later and still no wheels. This is a simple product, how hard is it to make sure all products are in the cart, before shipping.