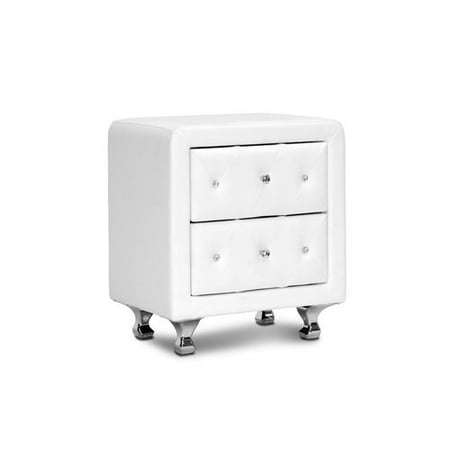 Take your home furnishing up a notch with the Stella Crystal Tufted Upholstered Modern Nightstand. Built with gorgeous faux crystal button tufting, it makes a stylish addition to any modern room. This tufted nightstand features shiny buttons that adorn the front of its two drawers. Each one truly glimmers when exposed to even the slightest bit of light. Chrome-plated metal legs accent the faux leather nightstand upholstery, giving it an elegant yet durable appearance. This Malaysian-made modern furniture item is built with a plywood and hardwood frame, which is then padded with foam before being covered.
Stella Crystal Tufted Upholstered Modern Nightstand:
Contemporary upholstered furniture item features gorgeous, sparkling crystal accents
Faux leather nightstand design is elegant and suitable for almost any home
Plywood and hardwood frame is durable and able to withstand daily use
Polyurethane foam padding adds an additional layer of comfort and protection
2 drawers open up to provide plenty of room for all of your favorite items
30-day limited manufacturer's warranty, parts only
Tufted nightstand requires some minor assembly
Dimensions: 20.25″W x 16″D x 23.75″H
Available in various colors
reviews
Very fast delivery. I am very happy with beautiful night stand.
I bought this nightstand because of the appearance. The top draw is a little hard to open so I just don't use it. but it was simple to set up, it comes together all you have to do is screw on the knobs & add the legs. Great buy if you ask me!
The night stand is very pretty but when both drawers are open the stand falls forward..the drawer has staples that were broken wen received it but such a hassle to exchange so I'm going to buy a staple gun to fix and reinforce it myself..I'm upset cause I thought the quality was going to b better..