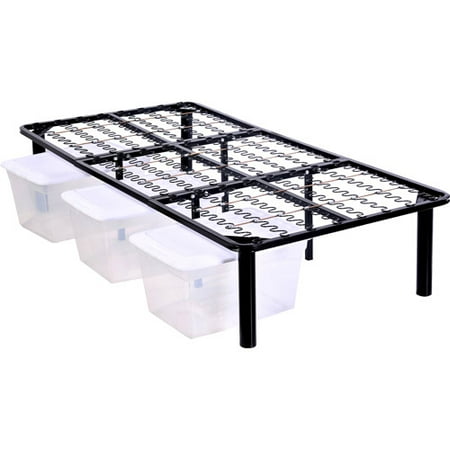 You can rest easy knowing that your mattress is secure on the Steel Platform Bed Frame. This sturdy piece of support furniture has reinforced metal corners. It provides a solid structure on which to put your mattress and box springs. It features a three-piece steel construction. There are eight support legs, making it extremely stable when in use. Along with the strength and stability, the bed platform frame adds a sinuous spring base. It distributes weight evenly throughout and covers the entire area. The platform sits 14″ high off the floor. It leaves ample and convenient space for storage containers. The bed's steel frame facilitates simple assembly making it easy to move. You can choose from five different sizes. The Steel Platform Bed Frame supports up to 600 lbs.
Steel Platform Bed Frame:
3-piece steel frame
Reinforced steel corners
Sits 14″ high
No box spring required
8 support legs
Spring base covers entire frame
Supports up to 600 lbs
Bed steel frame ships in 1 box
Assembly required
Twin frame measures: 38″W x 75″D x 16″H
Twin extra-long frame measures: 38″W x 80″D x 16″H
Full frame measures: 53″W x 75″D x 16″H
Queen frame measures: 60″W x 80″D x 16″H
King frame measures: 76″W x 80″D x 16″H
For customer support, questions, assistance or comments please contact our customer service number at (866)-238-0531 Monday-Friday 8:00 am-4:30 pm CST
Durable, stabilizing frame well-crafted in heavy-duty steel
Reviews
If you are on a budget and need a sturdy frame with build in box spring style this is the bed frame for you ! I am very pleased with this purchase. The price was right and no complaints.
Love this bed frame! If you have limited floor space, this is the frame you need, doesn't take up anymore floor space than the mattress and I love that you can store large items underneath the bed.
When I opened the box, I was a bit worried–it looked so small, and complicated, because it was split into three, easy to handle (by myself), pieces. I put it together in less than 30 minutes (58 yo female). The bed even came with all of the tools I needed to assemble it. The hardest part was flipping it over after assembly. The corner legs are solid and sturdy, the inner legs are tucked further under the bed to prevent toe-stubbing as I approach the side of the bed to climb in, and also add support in the center of the bed. I have a similar bed frame with legs supported by angle braces which reduce the under bed storage space, both in height and width; not so with this frame, which has a 14″ clearance from floor to frame.. All 8 legs are sturdy and solid, and the frame gives great support to my mattress. I highly recommend this frame.
if you are looking for a strong frame that allows for under the bed storage this frame is perfect.
very pleased with the product and overall experience. it was very easy from the ordering process to the delivery.
Recently had to downgrade son to a smaller room. This frame was exactly what I was looking for. It gave my son storage space for toys and building sets. Frame very sturdy and easy to put together.
The bed frame is great. I can store boxes underneath easily since there are no cross bars. One small problem….one screw is not long enough so I have to go to the hardware store and get a proper screw.
After looking into making our own platform bed frame, sawing, painting and considering the time and expense involved, I decided to go with this bed. It came in a box that fit easily into the trunk of our vehicle. It was fairly easy to screw the three sections together as well as the legs, but did require two people. So far, it has not been squeaky. It supports the mattress evenly, not necessitating a piece of plywood. My daughter is happy with this bed.
Purchased this bed for my daughters room. I wanted something that was sturdy and would last for a few years. She's only had it for a couple of weeks now but I'm pretty impressed with it. I also like the fact that the frame is high enough for storage crates. If you want to make it look a bit more attractive just use a bed skirt. You can also attach a headboard to it.
This was a really bad decision it's really squeaky I can't get out of bed with out hearing it squeak. Also the springs are weak they broke on the edge.