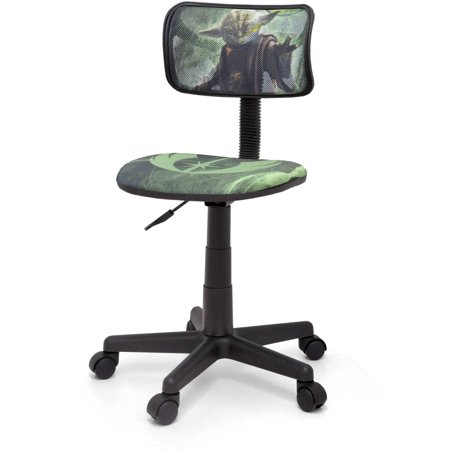 The Star Wars Yoda Task Chair is perfect for your child's room. Featuring a picture of a classic Star Wars character, it can either match the Z Desk or any other desk. It has rolling wheels, making it accessible to move around. It also features a lever for height adjustment on the chair.
Star Wars Yoda Task Chair:
Sturdy metal base
Perfect workspace for your child's room
Easy to assemble
Adjustable height lever
35.5″L x 40″W x 30″H
Model# WK330200
reviews
My son loves his new chair! Great buy!
My boys absolutely love their chairs! They sit comfortably everything works. Easy to put together.
I just bought all 3 of these chairs to go with their new adjustable tables for my three 6-year olds. They all love their new chairs. They are using the lowest setting right now, which is perfect for them. I can comfortably sit on them too. The assembly was easy, my husband finished all three chairs in less than half hour. No power tool needed.
Star Wars Storm Troopers Task Chair: Sturdy metal basePerfect workspace for your child's roomEasy to assembleAdjustable height lever35.5"L x 40"W x 30"HModel# WK330200
LEGO Star Wars Yoda Kids' Watch with Yoda Mini Figure: Case diameter: 29mmCase thickness: 7mmBand width: 18mmLEGO Yoda watch with Yoda mini figureIncludes 30 pieces Buildable watch Durable, non-allerg...