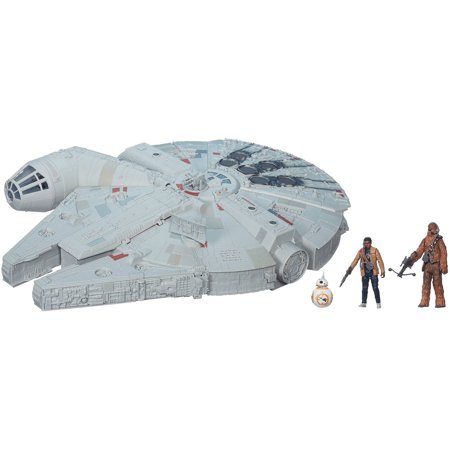 The Star Wars The Force Awakens Battle Action Millennium Falcon shoots two Nerf darts so you can recreate your favorite scenes. It also includes three figures, including Chewbacca, Finn (Jakku) and BB-8. Launch into action and adventure in your favorite universe away from home. Imagine recreating epic battles from Star Wars: The Force Awakens with this Millennium Falcon action figure, featuring a pop-up Nerf launcher, lights, motion-activated sound effects and a fold-out play set. Now you can play with your favorite characters from the movie right in your own home. This Star Wars battle action millennium falcon is suitable for children ages 4 years and up. Grownups too will enjoy being reminded of their favorite battles. Discover the exciting stories of good versus evil in a universe of heroes, villains and aliens. Collect and battle with these and other figures and vehicles from the movie.
Star Wars The Force Awakens Battle Action Millennium Falcon:
Age range: 4 and up
Shoots 2 Nerf darts
Lights and sound effects
The Star Wars battle action millennium falcon includes Chewbacca, Finn (Jakku) and BB-8 figures
Includes 3 accessories
Recreate scenes from the Star Wars universe
Includes vehicle, 3 figures, 3 accessories, 2 Nerf darts and instructions
Warning, choking hazard: small parts may be generated, not for children under 3 years
reviews
This was a gift for my 8 yr old boy. He loved it!! The price is alot lower at $98 than other toy stores. Its definitely a toy that can be sturdy enough to last years. The different compartments make it fun and different ways they can use their imagination. Overall a great buy for anyone who loves Star Wars.
The Force Awakens Battle Action Millennium Falcon is a must have for your child's Star Wars collection. All of the sound effects from takeoff to the firing cannons are incredible. Chewbacca, BB-8 and Finn are included. The top gun turret holds an action figure and lights up. The nerf cannon that pops is a great addition. The ship is not as big as previous versions … A Very Cool Toy!
My grandson loved it! He had originally asked for a Lego version (which his brothers already had). This one did not disappoint. It worked as expected and he continues to play happily with it.
Had to get this for my 44 yr old son and his sons. He was given one years ago that he lost when our family was displaced. Cannot wait to see he and his boys playing with this one. Bad or good, it will be great for the memory alone!
The old bucket of bolts comes back after surviving the Death Star 2 attack with a few additions. Although it was fun to play with, some of the new features did take a little away from the experience.
Cool toy pretty cool love the product can't wait for it to hit the stores
It is really cool because it makes noises and shoots a real dart.
It's so cool because you can shoot nerf gun things and it makes great sound like in the movie
I like that the products are light weight,durable. In addition the blade builders are fantastic.
Save your money. It's tiny, the electronic engine sounds don't work as advertised and the Nerf rocket doesn't work at all. The figures look like they were painted by a 5 year old (maybe they were). Even if everything worked like the box said, it would only be worth buying at half the current price.