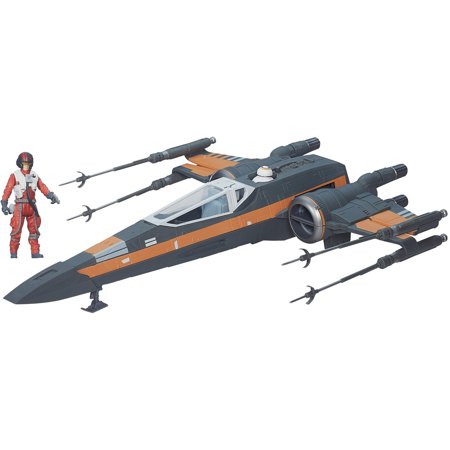 Launch into action and adventure with this Star Wars The Force Awakens X-Wing. Capture the action of the newest installment in the saga. Discover the exciting stories of good versus evil in a galaxy of starships and vehicles. When missions call for it, ace Resistance pilot Poe Dameron becomes Black Leader, flying a dark-hulled T-70 X-wing starfighter into action. This Star Wars X-Wing toy comes with two accessories and a missile. It is sure to provide plenty of adventure and fun. This item is designed for children aged 4 years and older. The Poe X-Wing vehicle includes a 3.75″ action figure with realistic detailing. Collect and battle with these and other figures and vehicles from Star Wars (sold separately) and re-create your favorite movie moments.
Star Wars The Force Awakens 3.75″ Vehicle Poe Dameron's X-Wing:
Age range: 4 and up
Movie-accurate appearance
Star Wars X-Wing toy comes with 2 accessories
Fires missile
Includes vehicle, figure, 2 accessories, projectile and instructions
Warning: choking hazard; small parts may be generated, not for children under 3 years
Poe X-Wing vehicle includes a 3.75″ action figure
Strike against the formidable power of the First Order
Re-create your favorite movie moments with this fighter
Star Wars products are produced by Hasbro under license from Lucasfilm Ltd. Hasbro and all related terms are trademarks of Hasbro
Combine with other collectable Star Wars pieces (each sold separately) for a complete set
reviews
Walmart carries a white and blue exclusive Poe Dameron x-wing. That is the one that I received when I ordered online — and not the black and orange as pictured. Surprisingly although they have different SKU numbers, they still sent me the exclusive instead of the black version. After research, people have had issues with the black version (all 4 turrets are bent, cockpit does not close and figure is hard to place inside). Still I would have liked to receive the black version that I originally ordered.
Christmas present for my nephew, he loves it. Only ting is the cockpit will not close if the figure has his helmet on, a bit of a design flaw
Make no mistake, this is a cool item, and my son loves it, but, with that said the production of this product needs an overhaul. The laser cannons, they do not stay attached well to the ship. Additionally they were bent in the box and subsequently I was unable to keep them straight. I can't return it because Santa brought it so I'm stuck with it. I like it but the manufacturer needs to craft improvements on the design.
My 4-year old has been asking for this ship for a couple of month. He is going to be thrilled when he opens this gift. I am so excited to see him happy!
I bought two of these, one for each of my children. Size-wise they're about the same size as the x-wing fighters we had as kids in the late 70's & early 80's; much smaller than some of the x-wings in recent years. Still, its a very nicely detailed vehicle and the Poe action figure that comes with it has a removable helmet and is far more detailed than the standard 3.75″ Poe action figure on the shelves. The big problem with these has been the warping of the wing blasters and in some cases the rubber nose cone. I can attest that Hasbro will send free replacement blasters that are stiffer if you contact them. Granted, if you're giving this to a 5 year old child, flexible blasters may last longer anyway. Overall its a nice toy and I would certainly recommend it to any young Star Wars fan.
Ignore that other negative review. The guns/cannons weren't bent and the stickers weren't ruined, nor did the nose look bad when it was "supplied" to the toy. Sounds like they got a hold of a defect or a previously opened item or are just posting bile because they can.
Do not waste your money on this toY. Upon opening the box I noticed that the cannons were extremely bent and would not bend back to the proper shape. The stickers were taped to the box, therefore they were ruined. The nose of the ship was made of cheap rubber that looked horrible when supplied to the ship. The toy is made from sub-standard plastics and is very fragile. Not to mention the paint job on the figure and the ship is horrible!!! Save your money and don't but this hunk of junk!!!
Launch into action and adventure in the world of Star Wars! Discover the exciting stories of good versus evil in a galaxy of starships and vehicles. When missions call for it, ace Resistance pilot Poe...