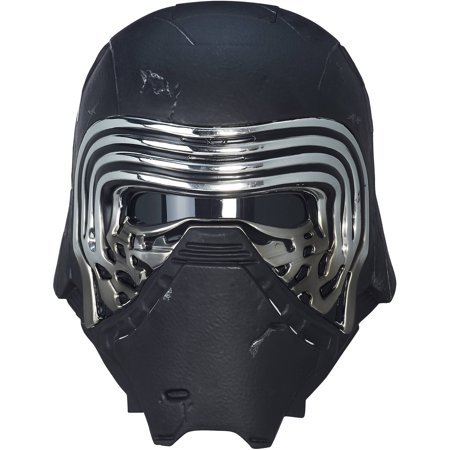 Recreate the biggest battles and missions in Star Wars with this helmet from The Black Series! A dark warrior strong with the Force, Kylo Ren commands First Order missions with a temper as fiery as his unconventional lightsaber. This Kylo Ren Voice Changer Helmet lets you sound like the character from Star Wars: The Force Awakens. The realistic look and sound of this helmet helps carry the imagination far, far away into the Star Wars universe. Imagine the thrill of a heated battle. Enhance any Star Wars collection with this helmet and lightsabers from the Black Series. Each sold separately.
Star Wars products are produced by Hasbro under license from Lucasfilm Ltd. Hasbro and all related terms are trademarks of Hasbro.
Star Wars The Black Series Kylo Ren Voice Changer Helmet:
Age Range: 8 years and up
Realistically detailed, movie-accurate reproduction of Kylo Ren's helmet
Electronically changes voice to sound like Kylo Ren
Full front and back helmet with fit-adjustment straps
Includes helmet and instructions
3 1.5V AA batteries (not included)
reviews
There are many great features about this helmet, but the voice changer is beyond terrible. This is still worth getting for the costume element, even if you have to find another voice changer for the full effect.
this is exactly what I was looking for. The plastic is a more sturdy then some of the other masks I've seen. It has the voice changer, I've read a lot of people are disappointed with it, but it works just fine for my son and he loves it! It is a helmet, the front and back pieces clip together. Although I can't believe the price on this thing- seems a bit ridiculous for what it is… I feel $50-$60 would have been a more accurate price point.
This helmet is pretty cool. It does take awhile to adjust it as others have stated. Once you figure out how it works for you the fit is good. It is hard to see out of mask if you are walking though so be careful until you figure it out. Overall it's a good mask for the price and will work great for my sons Star Wars birthday party!!
Bouth this mask a few weeks ago, its detail is amazing, battle scars and all. The voice changer needed to be modified a little to sound better for an adult (you can see this in youtube videos). Other wise it fits my giants head fine (after removeing a nose piece). All modifications were really easy to do (few screws). A must buy for a star wars fan for sure.
Very happy with this helmet!! Its got a bit of allowance for adjustment – but not much. Voice changer doesnt work to great. But details are top notch. Im happy 🙂
Helmet detail and material is great. Sound is terrible and the casing of the helmet does not want to snap together at all. See video and picture for example. Hopefully I can add something to the helmet to reduce ambient noise and will most likely end up supergluing the casing together so it does not randomly pop off. Also agree with another reviewer that the helmet internally is small for an adult male and forces the user to tilt head forward to see straight. This is due to the soundbox wiring being located in the frontal dome of the helmet.
I was excited about this helmet but when I tried it on the voice box doesn't work as well as it should. You can not understand a thing you say and for that price that should have been fixed.