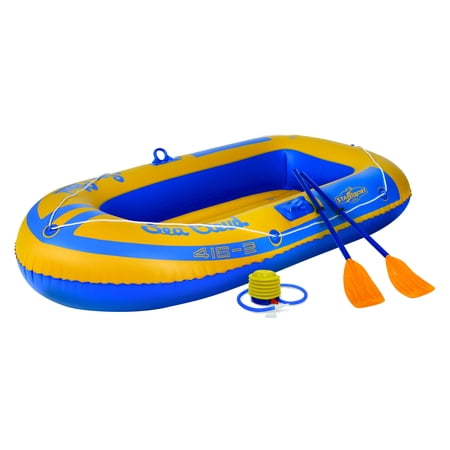 This Stansport 2-Person Inflatable Boat is built with three separate air chambers and an inflatable floor, as well as self-locking safety valves. The Sea Cloud Boat comes in yellow with an outside haul rope attached for added convenience. Your Stansport Inflatable Boat will also include two durable plastic oars, a convenient plastic foot pump and a handy repair kit to fix any holes before they slow you down. This model 416-2K Stansport 2-Person Inflatable Boat is made of heavy-duty PVC construction with electronically welded seams for your safety. The Sea Cloud Boat measures holds up to 340 lbs, so two average adults can fit comfortably. Stansport Sea Cloud 2-Person Inflatable Boat:
Model# 416-2K
3 separate air chambers
Heavy-weight vinyl
Inflatable floor
Self-locking safety valves
Outside haul rope
2 oarlocks
Includes pair of 45″ plastic oars
Also comes with a plastic foot pump
Repair kit quickly fixes holes
reviews
This was bought as a gift for a friends grandkids. They go to the lake and the kids loved it. It fit a few kids and gear. We also towed it behind our boat.