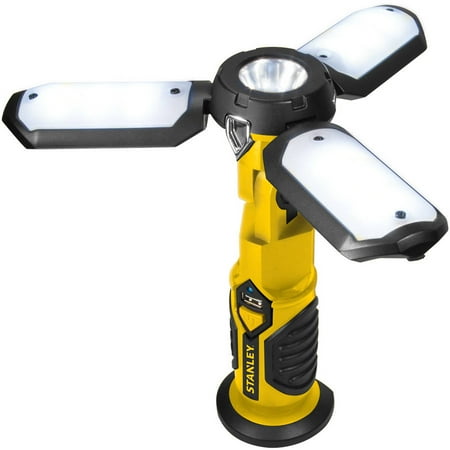 Illuminate your workspace with the Satellight Work Light. Use it at home, work or virtually anywhere you need a flashlight. It provides a powerful light with the long-lasting LED bulbs. This multi-purpose tool has 3 folding area panels. It features 18 ultra-bright LED lights to make it more useful. The magnetic base makes it easy to mount on a metallic surface for hands-free use. This functional light also features an ergonomic rubber handle for a firm grip. It comes with a convenient USB cable for charging. Light up your work space or backyard gathering with this unique flashlight.
Satellight Work Light:
Ultra-bright main beam LED
3 folding area light panels with 18 ultra bright LEDs
LED work light with pivoting head
USB power button/charge status LED
USB charging/power supply port
Ergonomic rubber handle
Magnetic base
Stow away hanging hook
2A USB vehicle charger
2A USB home charger
USB charging cable
reviews
Great light Bought it for my wife to use around the farm and she liked it so much I had to get one for me !
In order to charge this light, you have to have a male-to-male USB cable. Really? I have dozens of male USB to micro usb cords to charge my phones, my gps, and my tablets. But you required a full sized male-to-male USB cable. So, if I/wife/kids/dog misplace that one cable my light is useless. Why didn't you put a micro usb port on the light for charging so that I can charge it with the dozens of chargers I already own. And the full sized USB port already on the light can be used only for providing a charge to other items. Keeping track of that one cable out of the many cables that I have is going to be annoying especially when I am using the light for camping.
Haven't even opened it yet but looks cool and my new phew will enjoy it
A great work light plus useful when camping. I liked it so well I bought several to give as gifts to friends and family.
I love it. However, if you want to get really picky, there are a few minor things one could complain about. The on off button is easy to turn on and run the battery down due to it being where the handle is. The usb port could be 2 amps instead of 1 amps. The magnet could be stronger, the satellites when extended could swivel and the cord that comes with it could be much longer. REMEMBER, THIS IS BEING REALLY PICKY about the product. I've already bought two as gifts, and i WILL buy more!!! Like I said, it's a MUST HAVE especially at the price for what it can do! Fully charged….it Will blind you. And puts the light right where you need it to be!!!
I got this flashlight to replacement. I looked at several before choosing this one. It is so bright and does more than I expected. It would be great for anyone on your gift list.
This light is very bright and stays bright for hours. The hook is flimsy, magnet is weak , button is very sensitive and the fold out parts don't lock in.
i like the fact I can use the flood feature along with the spot. Great for re-charging or topping off cell phones.
This item works very well. So bright for deacent amount. Will recommend this
This light is nice in that it is bright and lights up large areas. However, the battery life is horrible when on the bright setting. Also, after about your 4th-5th charge, expect it to stop working completely. When you have this light in a work bag, another tool will turn it on by hitting the button and killing your battery before you realize it. This light is $30 of pure junk. If you intend to use it for work, don't.
Up To 300 Lumens 3 Folding Area Light Panels With 18 Ultrabright LEDs 5 Light Modes--high/low/area/all/flash