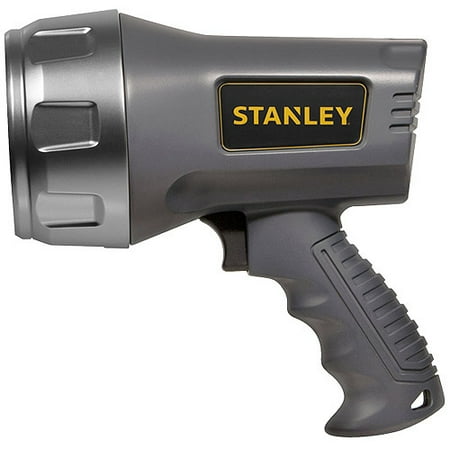 Light up nearly any space with ease using the Stanley Rechargeable Spotlight. It is ideal for projects, outdoor activities, power outages, emergencies and much more. The spotlight features an ultra-bright 3-watt LED main beam with six ambient LEDs for Halo Mode. It is designed to provide you with up to 10 hours of runtime to keep your area lit up. The lithium-ion technology stays charged for up to 12 months so it is always ready for use. AC and DC charging cords are included with the 3W LED spotlight so you can recharge it at home or even inside a vehicle. It also comes with a pivoting/collapsible stand for hands-free use. This lithium-ion spotlight comes in handy in many different situations. Use it in the home, business or shop for more light when needed.
Stanley 3W LED Lithium-Ion Rechargeable Spotlight:
3W ultra-bright main beam LED
Lithium-ion spotlight has 6 ambient LEDs for Halo Mode
Up to 10 hours of runtime
Up to 600 lumens
Pivoting/collapsible stand for hands-free use
Lithium-ion battery stays charged for up to 12 months
Charge 2 ways using vehicle or home charger
Ideal for projects, outdoor activities, power outages and emergencies
AC and DC charging cords are included
reviews
Very bright spot light and wide angle options plus it came with a head light.
4 yrs ago, I bought a different Stanly model and it was junk, but this one.. It's a great little spotlight! I've had it going on 3 yrs now, used it all the time for fishing and it's performed outstanding! A couple months ago while trying to desend a 8ft rocky cliff. I droped the light and of course it went over the side. Landing in rocks, just inches from the water.. but much to my surprise it was still on! We finaly made it down to the water to get the light and as my partner stoops to pick it up he touched it with his foot causing it to roll into the lake! Well, found out that their not waterproof. As the light was about halfway full of water.. still worked though. It was harder to get the water out than it was to get in. But I'm happy to say that the light still works as well as it did the day I bought it.. 3 years ago. It's used daily around the house. Going to buy another one this week since their on sale.
I live in a rural area where spotlights are important tools. I have owned many spotlights over the years and this one is the absolute best. It is the brightest by far, and best of all lasts much longer on a charge than any other light I have owned. I am planning to buy two more to have on hand in case it ever gets discontinued. Comes with wall charger, usb charger and car charger.
I bought one as a gift for my partner…unsure what kind of quality it was. We had purchased other lights (much more expensive) and battery life was a joke. This one is awesome…even use to spotlight when we can. Just amazing the cost and the quality…really!
Great price for a super bright light with various settings. Low energy consumption due to LED and long lasting battery due to lithium ion. Perfect combination. Mine also came with a bonus headlight which was not expected, but was a pleasant bonus.
This is a a very good spot light that provides a lot of light. I love that the unit can be charge with my cell phone charger. The price for the unit was great.
This is a great light for the price, lightweight and versatile with different light intensities. I never take the dog out after dark without it!
Great spotlight, use it all the time. Great price! I've bought several to give to my kids as gifts…
Bought this about 2 weeks ago, worked great for the first week. Now it wont hold a charge and only stays on for 3 to 5 seconds the shuts off. My diagnosis is bad batteries, or battery pack.