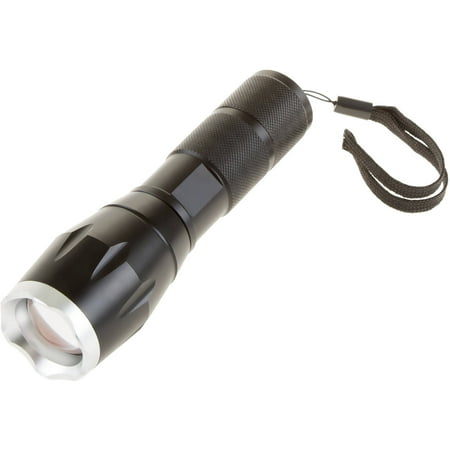 Get compact professional grade utility with Stalwart aluminum body CREE LED tactical flashlights. Find your way under any conditions with this powerful full-featured aluminum body light that offers High, Medium and Low light modes, plus Strobe and SOS flash modes for extreme situations. Your powerful light beam is zoomable as well to provide long distance (up to 1,100 feet) focused beam or widen out to light up a huge area. Perfect for anyone including campers, boaters, hunters, hikers, dog walkers, night joggers. Perfect size to keep in your truck, SUV, boat or RV. Stay safe and be aware of your surroundings at all times with this tactical flashlight from Stalwart.
Stalwart 1000 Lumen CREE LED Tactical Aluminum Flashlight, 5 Modes:
1000 Lumen CREE COB LED bulb
Sliding Zoom feature
Color: Black
Material: Aluminum Alloy
Includes Wrist Lanyard for Easy Carry (6.5 inch length)
Uses 3 AAA Batteries (Not Included)
Dimensions: 6″ (Length) x 1.5″ (Width) x 1.5″ (Height)
reviews
This is my first LED flashlight. The product is solid and seems well made. Takes 3 AAA batteries in one of those cylindrical holders. No instructions, but here is how you work it: The on-off button controls everything. Push to click to turn on the flashlight. To change modes, depress the button only far enough to momentarily cut off the light (not far enough so that it clicks). The modes are: full-medium-low brightness, strobe, SOS flash. To turn off, push till it clicks again.
I like the brightness of this flashlight and the zoom feature. The only problem I have is that it did not come with instructions and I have not figured out how some of the features work. The zoom is obvious, but the only other thing on the flashlight is a single button. I have not figured out how to do the high, medium and low or the SOS. I was only able to do the strobe by pushing the button twice.
This is a decent small fit in the hand flashlight. It shines a magnified uniform light that can be zoomed to a small like square to a large circle. The other functions work great. I like it.