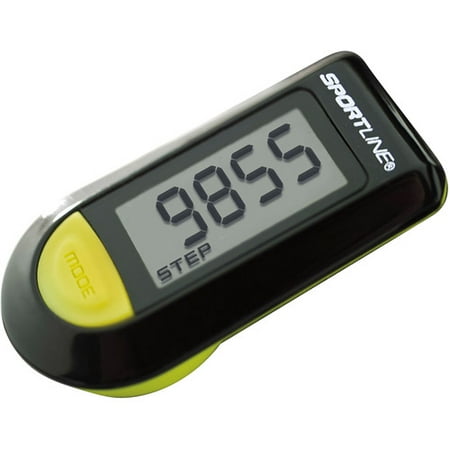 The Sportline Digital Distance Tracker Pedometer keeps up with the speed and distance you have walked. To help you stay ahead, it also tallies the number of calories burned. Movetrac counts the total amount of time that you are active while wearing this step tracker. This device is easy to wear as it simply secures to your shoes, clips on the waist of your clothing or stores in your pocket. The automatic and adjustable stride length settings on the Sportline digital pedometer help to ensure accurate readings. Detailed instructions to help you get started are included. This is a good option for those who want to lead a more active lifestyle.
Sportline Digital Distance Tracker Pedometer, Black:
Features speed and distance tracking
Calorie burn monitor
Sportline digital pedometer is water-resistant
Easily secures to shoes, clips to waist or stores in pocket
Color: Black
3-axis digital accuracy
Movetrac tracks total time being active
Automatic and adjustable stride length settings
Button cell battery included
Detailed instructions included
Dimensions: 1″L x 2″W x 1/2″H
Model# SB1070BK
1-year warranty
Reviews
Easy to set up and not a bunch of useless information. Will count steps, miles and calories. Make sure you have screen showing what you want it to show when checking. Steps? Don't have screen set to miles or you will think it isn't working. Runs on replaceable battery available most anywhere. Designed to wear on shoes and no issue falling off. Need to wear as designed. Clip that is attached on back of unit clips over a small bump on the unit which prevents it from un-clipping if you attach correctly. Clip has concave shape to it which is the area that you make sure your shoelaces are set in. No way this comes off if laces are thru the concave area allowing you to snap the clip over the small ridge….securing it. Do not see how this could come off if secured this way. Clip not designed for belt or the 'tongue' of shoe. I have worn it walking and during a 'walk away the pounds' dvd and appears to be accurate. Tested on exercise bike and it at least registers something but hard to tell how accurate it is on the bike as unit is set to steps. Yet, I can at least use it a measuring stick when on bike. I believe it is designed to not begin counting until after some continuous movement. If you walk across the room for 8 steps it may not register yet if you keep going it will start up and include those steps.
I love the design which allows you to attach it to your shoes when you're unable to clip it to your pants or skirt. And it's very accurate than most I've had in the past. Plus with the others, they kept falling onto the floor. Haven't had the problem with this one because of it secure clip.
i did keep account of my steps but i needed to reset to my stride and before i could do that i lost it. made me so mad. i will try another pedometer that i can attached to me with a lanyard or something. not sure yet. it wasn't the product it was me.
I accidentally washed this and ran it in the dryer also. Came out not working, took out the battery, dried it out and now it's working perfectly. Thumbs up.
I like this tracker because it is small and uncomplicated. You can carry it in your pocket & it works just fine. It calculates distance, # of steps taken, calories burned & active minutes. Very good price comparatively speaking. Not having to wear it on my wrist is a plus for me. I would highly recommend it
I didn't want a fancy pedometer and after searching online I found this one. It is extremely simple to use. The only thing that would make it better would be making it waterproof.
I calibrated this unit to give an accurate measurement for myself. When I got the same mileage I got by driving our car around a prescribed route, the pedometer worked well. It took several walks (with the pedometer attached to my shoe) to set the pedometer accurately. I didn't accept the "AUTO" calculation of stride length. This pedometer works well for the price.
My husband bought this for me as I am trying to be more active in my daily life… It was easy to set up & it worked well for the first 2 days I had it. But during these 2 days, I was constantly catching it about to fall off or picking it up off the floor. I wore it on my waist, on my bra and in my shoe. It was always about to fall off. On the 3rd day, I lost it in between taking my daughter to preschool and on my way to work. Needless to say, I never saw it again. I think it is not worth the $15. Save your money. I would not want to even pay $1 because it will not stay secure and you will lose it, eventually.