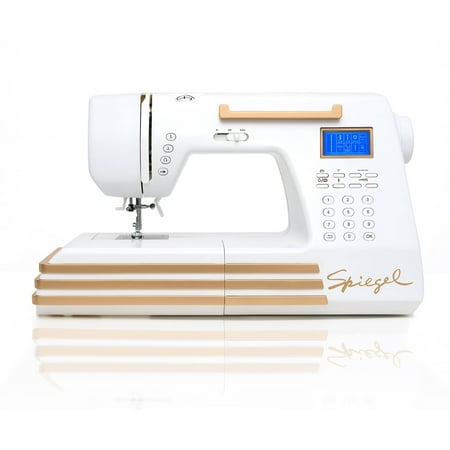 Speigel 60609 350 Stitch Computerized Sewing Machine combines high tech with high style. The 60609 includes a built-in Stitch Cam that allows you to view the sewing area and take a photo or record a video. Share your project with your friends! Also included is a Wi-Fi Station with Smart Sync Technology to connect your Smart Phone or Tablet (not included). Download the easy-to-use free Spiegel Social Sewing App
350 Unique Computerized Sewing Stitches
Built-In Wifi connectivity
Built-In Stitch Cam tm for viewing sewing area. Take a picture, record a video. Share with your friends!
FREE available download of Spiegel Social Sewing App
Smart Sync Technology allows connection to your Smart Phone or Tablet (smart device not included)
Automatic Start/Stop and Speed Control
Built-In USB Charging Station
Exceptional Price vs. Comparably Featured Competitive Sewing Machines
reviews
I gave a 5 even though I am still learning some of the features. I have recommended this sewing machine to a friend. Thank you Spiegel for a nice machine at a very good price.
It is not easy to use. I have sewed for many years. My old machine is easy to use. This one is hard to use and tangles the thread. After two weeks I still can't get it to sew at simple stitch. There is not enough help online. I am sure some day I will get it to work but there should be a workshop or some more help. Thanks
Great machine for the money. The light casts a shadow over the needle area so it isn't too good. Has a tough time going thru 4 layers of cotton. Customer Service at Spiegel is fantastic.
I am one of the few users on this site who wasn't given a machine. I have a Bernina but as it needed a ton of work (I've had it for 15 years and have used it almost every day since buying it) I thought it would be good to buy a back-up machine as I sew a lot. I was going to go for a Janome that was the same price but had been swayed by recent reviews on some sewing blogger sites. I liked the look of it and that it did automatic buttonholes. I liked all the stitches but that wasn't a real selling point for me. I wanted something dependable with a nice stitch effect. I won't lie and say that the holder that I use for my tablet wasn't also a factor. I tend to watch movies when I sew and this is wonderful! I love it. I also like its looks and that it is made of metal. I do wish that the feet were also metal but as this is its first year, maybe those will come. I have heard that it can use some interchangeable feet but I don't know about that. I do know that for 300, this is a sweet computerized machine with 300 stitches and really great customer service. I did have to use customer service to figure something out and I got them right off the bat. I do have the opportunity to recommend first sewing machines and this is definitely one I'll recommend. I hope that it continues to be dependable but I should know that soon because I'm going to use only this one for the next year for all apparel sewing.
It seems like a sturdy machine for the $$$. Lots of preset stitches, easy to change from one to another. Not terribly quiet. Spiegel customer service was great. Lots of on-line videos to get you started.
The Spiegel Limited Edition computerized sewing machine model 60609 is exciting and fun to use. I am thrilled to be able to use this machine. I think this sewing machine would be good for the beginner and the expert alike. There are so many features, and they are simple to use. I now am trying to think of things I can sew to use some of the lovely decorative stitches, there are so many to choose from! All together there are 350 stitches from decorative embroidery stitches, monogramming letters and numbers in different fonts to more utilitarian stitches. I think the stitch cam is one feature that will be very useful and is fun to use. I put my wireless device in the smart device holder and through the free Spiegel app that I now have on my phone and WI-fi connectivity, I can see my sewing in real time as I sew and it is easier to view my work close up as I go rather than looking at the presser foot. I will not end up sewing on and on only to see that I ran out of thread somewhere along the line. I can see my work shortly after it passes the presser foot through the stitch cam. There is even a usb charging station of the side of the sewing machine so I can keep my phone charged while I sew. I can even share my sewing through social media if I so choose. Amazing! The Spiegel app has how to videos to watch as does the website www.SpiegelSewing.com I would add that being able to start and stop the machine at the press of a button instead of using the foot pedal is a dream come true, so much easier than cramping my foot up on the foot pedal, but if you want to use the foot pedal, it is still available to use. The only negatives I have found is that I wish the Spiegel app uses up a lot of my battery even when I am not using it, so I make sure to stop that app from running in the background after I am done sewing or looking something up on the app. The other negative for me is that the presser feet should all have the coordinating letter imprinted on them. If I am using an "A" presser foot it should have an "A" on it, etc. In this way I would be less likely to put the wrong presser foot on for a certain application. Other than those two issues, I could not find anything to complain about, only things to get excited about. I truly love this sewing machine!
Sounds like a truck. Very hard to thread. The industry standard is a top loading bobbin for this price class machine. This machine has the old hard to use front loading bobbin. I am an experienced sewer and this machine is very noisy And difficult to use. You get very few feet and just a few bobbins which aren't standard which you cannot buy more anywhere. Beware don't buy. Buy a comparable Singer, Janome or Brother for the same price. Also web cam thing is just a gimmick.