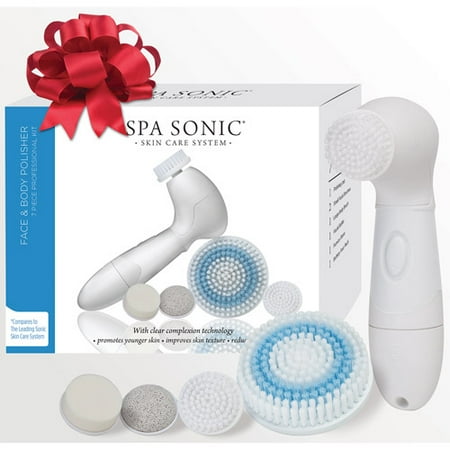 Pamper your skin with the Spa Sonic Skin Care System Face and Body Polisher. This facial care system consists of different tools that can be used for making your skin smooth. It operates with four attachments: a big brush for the body, a small brush for the face, pumice for rough areas and a facial sponge for microdermabrasion. It helps in exfoliating, smoothing, and softening the skin. The Spa Sonic Skin Care System 7pc Pro Kit is perfect for people with different skin types as it is safe and is recommended by dermatologist. This water-proof skin polisher kit helps in reducing the size of the pores and also helps in diminishing fine line and dark spots so that you get clear and younger looking skin. Cleaning the skin with the Spa Sonic Skin Care System Face and Body Polisher also helps in removing dirt, oil or makeup from the pores and improves the texture.
Spa Sonic Skin Care System Face & Body Polisher:
Includes: 1 body polishing unit, 2 small facial brushes, 1 large body brush, 1 facial buffer, 1 pumice stone and 1 battery 4-pack
Safe and effective for all skin types
Exfoliates, smoothes and softens skin
Tightens and reduces size of pores
Supports the reduction of fine lines and dark spots
Eliminates dirt, makeup and oil
Recommended by dermatologists
Indications
:
Health Concern: Fine Lines and Wrinkles;Dark Circles;Enlarged Pores;Oiliness
Skin Care Concern: Enlarged Pores;Fine Lines & Wrinkles;Oiliness;Dark Circles
Warnings
:
California Proposition 65 Warning: WARNING: This product contains chemicals known to the State of California to cause cancer andbirth defects or other reproductive harm.
Directions
:
Instructions: The spa sonic skin care system face And body polisher is a waterproofdevice which is ideal for use in the shower, bath And sink. It operateswith 4 attachments: a big brush for the body, small brush for the face,pumice for rough areas And a facial sponge for microdermabrasion. Thespa sonic tested comparably To the clarisonic plus skin care system inan independent study conducted by the leading consumer testinglaboratory (str/shuster labs 2010). the spa sonic has been exclusivelysold in the finest spas And salons all over north america until now! Thespa sonic is now offered To the general public, which allows you To"bring the spa home" And treat yourself To a salon level experience.
reviews
This product was very helpful. I wish each store would keep a minimum of two on hand.
Purchased for Christmas for teenage daughter . Have not used yet but overall seems like will be nice gift
Good value for the price. I am happy with the ease of use. Switching between brush heads is easy. Control is simple. Seems like it could last me a while. I wish it had the sonic feature and different levels of power- but then I guess it would cost more. Overall I recommend it.
I originally bought this as a birthday day present for my mom and not realizing that i had actually already bought her the same type of gift years ago. So she said i could keep it. I use it in the shower for my face and body. You feel really clean after. I haven
I purchased one for my daughter as a gift and one for myself. I liked it so much that I ordered a third one for my other daughter. It makes my skin feel so clean and smooth. I think every woman should own one. The price made it worth trying for the first time as I did.
Great value. Most in this price point don't come with any extra attachments. Noticeable difference in my skin after only one use.
I've been wanting the Clarisonic for a while now but just couldn't spend that much money on one. This works great! After I used it just a couple of times, my husband said my skin was glowing. Plus, I don't need as much foundation. Win, win!
I put in batteries and inserted the small brush head and it spun for a few seconds and then a god awful screeching began… let it dry out and tried again with the same results.