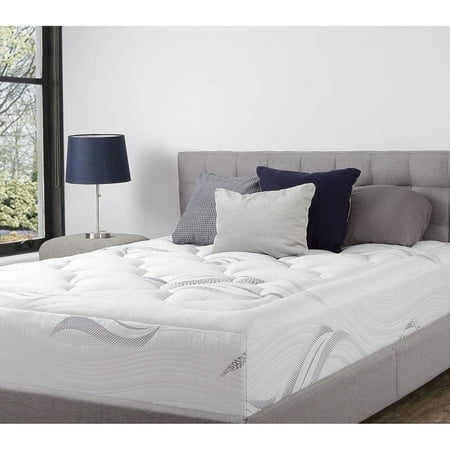 Spa Sensations designed the exclusive Cloud Memory Foam Mattress collection to include a plush, quilted cover and a unique combination of foam layers that provide a cloud-like, luxury feel. The innovative foam layering system shapes itself to your body to give you a customized, comforting, sleep surface. Spa Sensations has added the Quick Response foam for resiliency and the high-density foam for full-body support so you can sleep well and wake up refreshed.
Spa Sensations 12″ Cloud Memory Foam Mattress, Multiple Sizes:
1″ microfiber quilted to soft knitted jacquard cover
1″ Quick Response foam
2″ memory foam
3″ comfort foam
5″ high-density base support foam
The foams are infused with green tea, charcoal and natural seed oil which minimizes the use of petrol based chemical oils and works to eliminate orders
Patented compression technology allows our mattresses to be compressed, rolled and shipped in a box via Fedex
All Spa Sensations mattresses meet the requirements of 16 CFR Part 1633-Federal flammability standards
All foam is CertiPUR-US Certified for durability, performance and content
Please allow 24-48 hours for the memory foam mattress to fully expand to its original size and shape
Twin size: 75″W x 39″D x 12″H
Full size: 75″W x 54″D x 12″H
Queen size: 80″W x 60″D x 12″H
King size: 80″W x 76″D x 12″H
10-year limited warranty
Beds sold separately.
Bed frames sold separately.
reviews
The deliver guy brought the box in the house with ease. I opened the box and it took a full 3 days for it to turn into the cloud. It did have an odor but the paperwork said that is normal and not to put sheets on for the first 2 days. the smell went away after the first night. It expanded to its full 12″height. We are all jealous of my teenagers bed. It is very comfortable, not too firm and just the right amount of softness. Sometimes I go into her room to talk to her just so I can lay on her bed. LOL I thought the price was right and it is definitely comfortable. She has had it for 3 months now and she still likes it.
I love this mattress! I purchased it for a guest room, but slept on it myself the first night and got the best nights sleep I've had in a long time. It starting decompressing as soon as my husband removed the packaging and reached it's full height of 12″ after about a day. I just ordered another one for my second guest room.
Very skeptical i was about buying this mattress but with the decent reviews decided I'd give it a go. Came neatly wrapped in an easy to carry box from the store to my house. It is slightly heavy and required a buddy to carry. Assembled my platform bed I also purchased from Walmart.com and opened up the mattress it instantly began decompressing right out of the plastic and within minutes was up to about 9 inches gave it 24 hours but couldn't wait any longer without laying on it because I had nowhere else to sleep. Its been over a week now and only managed to reach maybe 10.5 to 11 inches but still nowhere near the 12 it advertised. I do love the mattress it is VERY comfy and the queen was a BIG step up from my tiny twin. Just wish it fluffed up to the full 12 inches debated on returning but for the past week been sleeping so well I figured i"d keep it. As the hassle of returning this huge and heavy mattress didn't sound pleasant. The quilted cover is nice and adds a delightful addition to the comfort level.
Spent well over 1000$ on a fancy mattress from a factory store. My wife and I bought this mattress for our guest room. It showed up all vacuum sealed in a box, and we simply open it and laid it out. Within 2 hours it was at the full 12″ and looked incredible. So we slept on it to see the difference… long story short the $1000 dollar mattress is in the guest room now. If we ever need another mattress it will be this one.
So disappointed! I've been waking up with back pain! My boyfriends side of the bed is a little better but he even agrees my side is hard as a rock! 🙁 I'm in pain and uncomfortable only after 15 mins of laying on this mattress! We will deff be looking into returning this and looking for something else unfortunately! We will most likely have to buy local so we will not have to be without a bed since we threw our last spa sensations out! We were actually happy with our last one we just wanted a newer nicer mattress!