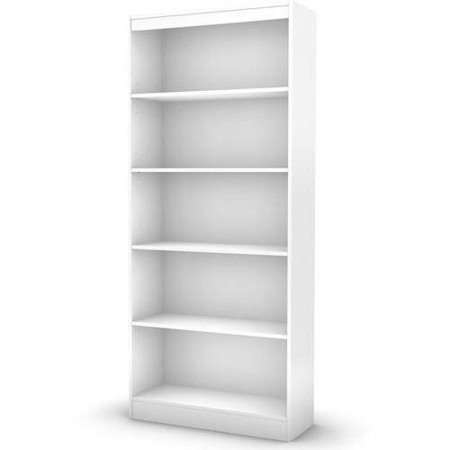 The South Shore Smart Basics Collection 5-shelf bookcase is ideal for binders, books and decorative items, and the bookcase features contemporary styling. Easy to assemble, this South Shore bookcase features 5 storagr space separated by 1 fixed shelvesand 3 adjustable shelves for storage. This adjustable-shelves bookcase is manufactured from recycled CARB-compliant laminated particleboard. The South Shore 5-shelf bookcase is a good addition to any home for added style and storage.
South Shore Smart Basics Collection 5-Shelf Bookcase:
Ideal for binders, books and decorative items
5 storage spaces separated by 1 fixed shelf and 3 adjustable shelves
Contemporary styling
Manufactured from recycled CARB-compliant laminated particleboard
Easy to assemble
Dimensions: 30.75″ x 11.5″ x 71.25″
5-year warranty
For more information about service or parts, contact South Shore directly by calling toll-free 1-800-290-0465.
Directions: 
Fabric Care Instructions: To clean. use a soft dry cloth
Reviews
I enjoyed putting the unit together myself. I was able to follow the pictured instruction without any problems. The unit was just what I wanted, and I am very satisfied.
Had someone put 3 of them together and bolt to the studs for security. Photo says it all.
Easy to install. Had a couple of shelves damaged but called the company and they shipped out replacements free of charge.
I have bought two extra shelves for each unit and they hold my dvd's. I am beyond satisfied with these shelves. I found them easy to assemble and they are very sturdy.
I bought two shelves for my office at work!! I am enjoying them very much!! For the price, they are awesome!! And arrived before the estimated delivery date!!
Ordered 2 of These, The stands Were Good, One Did Have A Couple small dings taken out of it, but i went and bought A Paint Pen And It Covered It..my Biggest issue Was With Shipping..Ordered Them On A Monday..Walmart had i Would Get Them By Sunday..Which That Should Of Told Me Something..lol.. But fedex said I Would get Them By Friday!! So I Started Tracking Them..They Sat For 2 days Before Even Moving!! Than Sat In Texas 2 More day and didnt move!!Needless To say I Didnt Recieve Them At My Walmart Store Untill The Following Wednesday..3 Days From When Walmart Said And 5 Days From When Fedex Said!! Wasnt Happy!!
We ordered three of these bookcases, and they arrived earlier than expected. They provide an affordable option for shelving, especially when you need several of them. The space between the shelves is quite large, however, and yet, each shelf has a weight limit of just 15 lbs. I think an extra shelf would have made these bookshelves an even better deal.
Great bookcase, just what I wanted. EASY to put together, labeled correctly and was done quickly.
For the price, the quality is pretty good! Honestly a lot sturdier than I expected. I would definitely recommend the product.
Arrived a day ahead of projected delivery far (+), matched existing cases which are almost 30 years old. Easy assemblage but recommend laying out on floor prior to assembling. The taller cabinet is the recent purchase.
Item shipped on time and was carefully packaged. I was happy with the appearance and overall quality. This item came with instructions for assembly and was fairly easy to put together. This bookcase also came with an earthquake bracket to attach it to a wall. I would buy this product again if I needed another book case.
Shelves bowed within 5 months. I was under the impression a bookcase was supposed to be able to hold books. My mistake…at least in purchasing this particular shelf. Should've paid more for better quality.