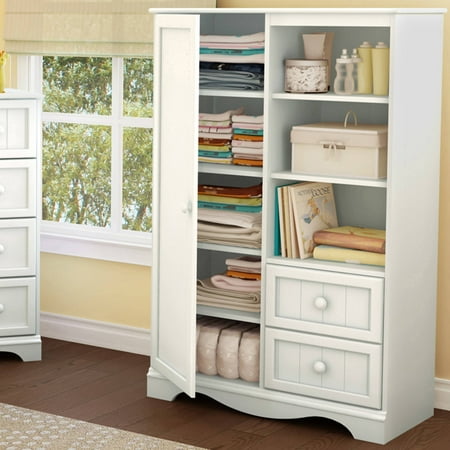 This country style armoire features two drawers, three adjustable open storage spaces and five shelves behind the door, of which three are adjustable and two are fixed. Its plentiful storage space means this chest can meet your child's needs well beyond his or her early years.
South Shore Savannah Door Chest, Pure White:
Stylish molding and kick plate which enhance the country style
Wooden knobs in a White finish
Open and closed storage spaces for a well organized room
Features 5 storage spaces divided by 3 adjustable shelves and 1 fixed behind the door
Features 3 open storage spaces divided by 2 adjustable shelves next to the door
Features 2 practical drawers
For your children's safety and your own: plastic drawer slides with safety stop and dampers
Accessories not included
The box for this item is heavy, so be sure to have a friend with you – or good biceps! – when it arrives.
Requires complete assembly by 2 adults (tools not included)
This product's packaging has been tested and is certified to reduce the risk of damage during shipment
Made in Canada with non-toxic laminated particleboard
5-year limited warranty. Any product-related questions? Contact South Shore's customer service, available 7/7: 1 800 290-0465, or visit www.southshorefurniture.com
reviews
Very excited can"t wait for my daughter to have her baby it matched the crib . Thank you to all the people who had handled this matter. Excellent service
Bought this product to use in a bathroom for towel storage. When it arrived, had a panel that was damaged so had to call company to have it replaced. Service was friendly and replacement mailed quickly. Directions to put unit together could be improved, such as labeling which bag of hardware will go with which section. There are still some gaps that show even after following directions to decrease the spaces.
My husband put this together but there wasn't any instructions or labeling of what screw went where. Only because he has done this many times did he understand what to do. A newby would have given up. It is a nice sturdy piece of furniture and fits well in guest bedroom.
Short ..well made except for back and door which are very thin and cheaply made..don't expect either to last
Assembly was easy. Nice and sturdy piece of furniture. Very functional. Great deal! Looks fantastic in our baby girl's nursery! We bought all 4 pieces (changing table, dresser, armoire & nightstand)! Couldn't be happier! (P.S. Buy the bundle and then separate nightstand)!
Absolutely beautiful in my grandsons nursery.pictures of directions to assemble was slight difficult..but the outcome …beautiful
I picked up this armoire at the store. The directions were terrible and the pictures weren't helpful at all! When it was put together it was exactly what I needed( pantry)! It looks great against the wall next to my small white kitchen set!
This item is too big and bulky to return. Major faults undetectable until it's completely assembled. Many of the exposed edges are dinged up. The drawers operate very roughly and they really don't fit into the frame as well as I think they should. The worst defect is the door. It's too small to cover the opening. 1/4 inch gap all the way around the door. Did they include the wrong door? So disappointing. I would feel much better about this piece if it had cost about 1/2 the price. I definitely did not get what I paid for here.