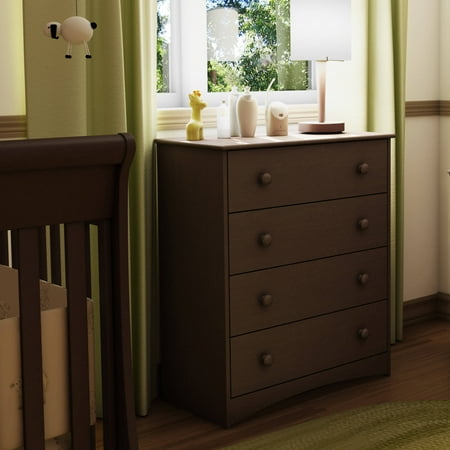 The South Shore Angel 4-Drawer Chest is a country-styled chest that will add both warmth and style to your toddler's room and at the same time helps you keep your baby's things organized. This baby dresser manufactured by South Shore Furniture is easy to assemble and the drawers are neither too big nor too small. It can be put up in the nursery or any other room to store various things including clothes and everyday essentials. The height of this 4 drawer chest is perfect for toddlers – they can reach to the top easily. Also, this baby dresser can be secured to the wall, which makes it a safe choice for a baby's room. The rich color of the dresser gives an elegant touch to the room's décor.
South Shore Angel 4-Drawer Chest:
Part of the Angel collection
4 practical drawers
Metal drawer slides
Round wooden knobs on this baby drawer chest
Made in Canada with non-toxic laminated particleboard
Meets or exceeds all North American safety standards
Made of non-toxic materials and components
Overall dimensions: 31.5″W x 16.5″D x 37.5″H
Complete assembly required by 2 adults (tools not provided) for this baby drawer chest
5-year warranty from the date of purchase covering defects on furniture parts and workmanship
reviews
Overall, this is a great looking dresser. Took about 2 ½ hrs to put together but well worth it. I'll break down the pros in cons here shortly. We purchased the Espresso colored dresser to try and match our baby's crib. After it was all put together, it looked great in the bedroom. Pros: Inexpensive, great looking Cons: Paint chips easily, Not stable (SECURE TO WALL) Can't beat the price, however, the paint does chip easily. I highly recommend lying the dresser on a blanket while putting together. They throw in a touch up pen just in case, I ended up using it. The dresser is also NOT very sturdy. At least on carpet it isn't. After putting together, I opened the top drawer and it tipped over easily! The box does include screws to bolt to wall so I recommend you do so and make sure it's on a stud. Buy a stud finder if you need to. The back of the dresser is not made of wood, pretty sure it's just a cardboard box cut out. A little thicker but just to give you an idea of what it is. You'll end up having to hammer that on the back with nails to put together. Knobs are plastic and feel really cheap, I would have rather purchased some metal knobs and may do so at a later time. Again, overall a great purchase for the money. Just take your time putting together and expect to spend a few hours.
Overall, it's not a bad nursery dresser for the price. It won't fit a lot of regular sized clothes, but it works for baby clothes. It did take my husband a long time to put together because it's tedious. I would also recommend securing with the wall bracket in a nursery or kids room because it's wobbly on carpet and will fall forward if all the drawers are open.
I bought this dresser 1.5 years ago for my son and i loved it, i am now pregnant with baby number two and i ordered it again. The dresser came in 3 short days and i love it just as much as i love my sons. Looks great, color is beautiful and very sturdy, the drawers also close night a slow for little fingers 😀
I bought this for my daughter-in-law and her soon to come baby girl. She loved it and it matched the baby crib and changing table she already had.
Was looking for inexpensive dresser that had easy glide drawers. This suits well for price. Hubby had bought another dresser on "sale" at CT and it was useless and weak at $60… this was worth the extra cost…but still affordable and I expect to use until child gets until their tweens. Matched well with our new crib.
I'm a happy I purchased the dresser though it did take a little bit to assemble. I would buy it again in a heartbeat
Took it out of the box to put together and all of the pieces were so beat up. Thought we could make things so work put it together any ways but it looks terrible. I've recently order many things for my baby's room from Walmart and many of them have come beaten up or the completely wrong thing from what I ordered. I'm extremely disappointed.