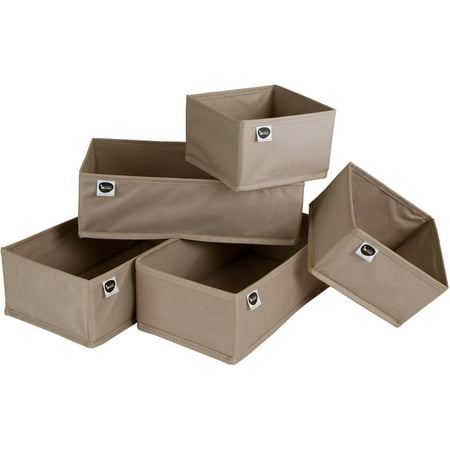 Take organizing your home to a whole new level with these South Shore Drawer Organizers. They are practical and easy to use in nearly any room of the home. A good size for storing clothing, books, toys and other items, they come in handy even in the most compact of spaces. These storage organizers are compatible with the South Shore units, but can also be used as stand alone bins. Made from 100% propylene, they are durable to offer you long-lasting performance. When not in use, the storage drawer organizers can be folded flat, allowing them to neatly stack out of the way or be taken along for use during travel. Made with the highest of quality in mind, they are a good choice for use in living rooms, nurseries, bedrooms and dorm rooms. South Shore Drawer Organizers also make a wonderful housewarming gift for your love ones. The simple style of these units allows them to blend easily with all types of home decor while storing your items and keeping them accessible.
South Shore Drawer Organizers, Multiple Finishes:
Practical and easy-to-use storage solution
Keep your belongings neat and easily accessible
Foldable and washable with a moist cloth
Perfect for those small items that always tend to get jumbled up in your drawers
Each set includes: 2 square compartments measuring 6-5/8″ x 6-5/8″ x 4-1/8″ (16.8 x 16.8 x 10.6 cm); 3 rectangular compartments measuring 13-1/4″ x 6-5/8″ x 4-1/8″ (33.6 x 16.8 x 10.6 cm)
Materials: polyester (exterior), polypropylene (interior)
reviews
So excited to organize my drawers! These drawer organizers are a great size and make my drawers look orderly. The only negative is one of the bottom zippers was broken.
I bought 2 sets and went with taupe/brown color and they fit perfectly in my dresser drawers. Its so easy just zip the bottom and put in your drawers. I can easily find what I need know and its so organized.
These have help in organizing my dresser draws. I was surprised on their sizes but these worked out great. Love the zipper bottoms too.
These boxes are perfect for organizing!! My dresser drawere were mess with make up items and hair care items. Now I don't have to fumble through the clutter to find something!!
I was looking for some inexpensive dividers for my son's drawers and these were exactly what I was looking for. They easy to install and fit perfectly. The cardboard is a little flimsy but I'm not storing anything heavy in them so they should last. I love how everything now has it's place.
The organizers fit the nursery dresser perfectly. They are flexible so it was easy to move in and out of the drawers. The pack of 5 was perfect with the 3 rectangle and 2 square organizers for a variety of things. We used them to organize our nursery dresser and it was perfect! I do wish they had a grey color instead, but not a big deal.
I bought these because I spray painted a dresser a fee months ago, and now that we're having a baby, I wanted the inside of the drawers more sanitary. I put contact paper in first, which is always a CHORE but I still felt that it wasn't as clean as i wanted for my first child. I also wanted to keep diapers easily separate bc it will be a changing table as well. Fit PERFECTLY!! couldn't find any in stores! Now our baby isn't here yet so I can't comment on quality but they SEEM to be durable and I'm happy!
When I pulled the drawer organizers out of the plastic bag, they smelled strongly of smoke. I was very disappointed because I needed them for my baby's dresser of clothes. I liked the design and price and I didn't see anything comparable online so I tried several things to get the smell out (i.e. Lysol wipes, Febreeze spray, dryer sheets.) since the fabric is not washable I am forced to return them or deal with the smell. This was a big disappointment.