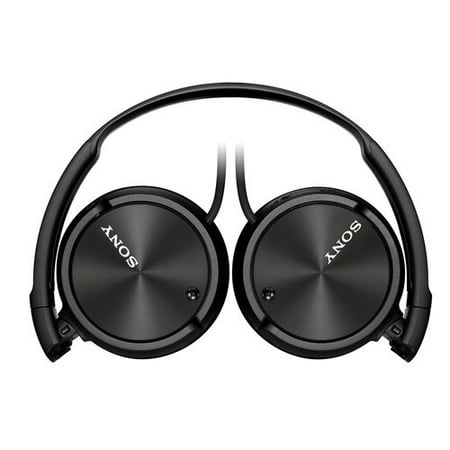 Enjoy your music on the go with these Sony MDRZX110NC ZX-Series Noise-Cancelling Headphones.They provide a remarkable, up to 95 percent noise-free, audio experience. These noise-cancelling on-ear headphones feature pressure-relieving cushions that provide long-term comfort. The swiveling earcups can also be folded compactly for easy portability. They have 30mm drivers for a full-range sound with powerful bass and clear treble. These headphones offer 80 hours of playback with one AAA battery.
Sony MDRZX110NC ZX-Series Noise-Cancelling Headphones:
Noise-cancelling technology for up to 95% less noise
30mm drivers for rich, full frequency response
Up to 80 hours playback from 1 AAA battery
Can be used as standard headphones without battery
High-energy magnets deliver powerful bass and clear treble
Lightweight and comfortable on-ear design
Swivel design for portability
Sony noise-cancelling headphones with 1.2 m tangle-free, Y-type cord
Reviews
My beau and I purchased a pair of these headphones for our recent trip to Europe, and it was the best investment ever! The noise-cancellation feature makes SUCH a difference when listening to music or watching a film! They're lightweight and portable, and very comfortable to wear. We recommend them highly!
Sound is good, noise cancelling is OK for headphones that fit over the ear, I really like the compact foldable design that is easy for travel. Well worth the price of $33.
Price for quality ratio is great. The noise cancelling works well, but I don't have anything to compare it to. I got these to block out office noise and that they do. Sound quality is good. I wish I had read to specs further to see a AAA battery is required for the noise cancelling feature because I don't like having to buy batteries. Overall I am satisfied for the price. Also they are very comfortable.
I was looking for an inexpensive pair of noise-cancelling headphones that would work decent and I am so glad I found these. I wasn't expecting much for the price, but I have been pleasantly surprised. I needed a pair of these to wear while studying because my husband is a loud person who is always making noise and has to have the TV on all the time. These headphones muffle his noises pretty good. I also, recently used them while listening to music on a flight and found when I turn on the noise-canceling feature I can hear the music a lot better. The noise cancelling feature is controlled by a button that can be turned on even if the headphones are not plugged into a device, so the noise cancelling works even if you don't want to plug the headphones into anything.
Headphones are pretty good for the price. The noise cancelling is ok. Not on the lines of a Bose set, but considering the price, they are not bad. The battery compartment door feels a little flimsy but as the battery life is quite long, you will not have to access it too often so its not too much of an issue. Fit is good, and they are quite comfortable on a long plane ride. Overall i'd rate these as good 4/5
Worked great to reduce noise on a recent flight to Italy. The more expensive ones might work better but these did fine. Reduced the air plane noise, good sound on movies and helped me to relax on the long flight.
The only reason I did not give the fifth star is because I haven't tried them on a plane yet. Otherwise for all my in home uses they are comfortable and sound great especially when the noise cancellation is activated. A great buy for the price. Especially true if you can get them on sale then it's an absolute steal.
This product is not made as well as an earlier version I owned…It was also an inexpensive one…my old ones worked great for the price… The noise cancelling feature on this new one is barely noticeable. . But obviously Sony didn't to put same quality work in this new one.. Sound is not as vibrant… I cannot recommend this model. I'm sorry I wasted money on these.