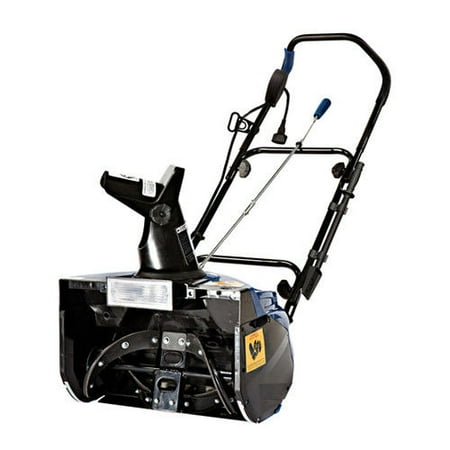 Snow Joe SJ623E. . Features: Ideal for driveways and walkways. Safety switch button prevents accidental starts. Compact wheels for easy maneuverability. Switch lever to provide an instant start when using the snow thrower. No need for gas, oil, or tune-ups keeping it always ready for unanticipated use. 20 watt halogen headlight to clear paths day or night. ETL approved. Full 2 year warranty. Your kids are jumping for joy as your lawn has again been hit by another snowfall. Meanwhile you're standing there, coffee in hand, arms and back still sore from the last time you had to shovel snow to get your car out of the driveway. Well save that arm strength to pull your kids' sleds instead, and get the Snow Joe Ultra 15.0 Amp 18 in. Electric Snow Thrower to help you clear that snow quickly and efficiently. This machine can clear 720 lb. of snow per minute to a depth of 10 inches. The 180 degree rotating discharge chute lets you'd direct the snow where you'd like, so even if your kids try to sneak up on you for a snowball fight, you'll be able to maintain the upper hand. The snow thrower also comes with a 20 watt halogen headlight to help you stay ahead of heavy snow storms on short winter days. Features Ideal for driveways and walkways Safety switch button prevents accidental starts Compact wheels for easy maneuverability Switch lever to provide an instant start when using the snow thrower No need for gas, oil, or tune-ups keeping it always ready for unanticipated use 20 watt halogen headlight to clear paths day or night ETL approved Full 2 year warranty Includes Ultra Series 15.0 Amp 18 in. Electric Snow Thrower with Light – SJ623E 20 Watt Headlight Clean Out Tool Specifications Series: Ultra Length: 45 in. Width: 19 in. Height: 39 in. Weight: 33.7 lbs. Amperage: 15 Auger Diameter: 10 in. Batteries Included: Battery Amp Hours: Battery Capacity: Battery Type: CARB Compliant: Certifications and Listings: CSA, ETL Chute Rotation Turning Radius: 180 Degrees Clearing Depth: 10 in. Clearing Surface Type: Clearing Width: 18 in. Discharge Distance: 0 – 25 ft. Drive System: Auger Assisted Engine Displacement: Engine Type: Horsepower: Impeller Size: Max. Extension Cord Length: Maximum Plowing Capacity: 720 lbs./min. Min. Rated Extension Cord: 12 Gauge No-Load Speed (RPM): Plowing Capacity: Power Type: Electric Rotor: Shipping Weight: Starter: Electric Terrain: Slopped Type of Snow: Voltage: Wheel Size: 4.5 in. x 2.5 in.
reviews
Last year – in Minnesota, the land of 10,000 feet of snow – we didn't even use our large snow blower. LOVE this light and easy to use Snow Joe. So much that I bought it for my rental property and one for my dad to clear their drive and sidewalks.
Product is easy to use-just plug it in and go. I have a 40′ x 10′ driveway, and this snow blower is perfect. So far, we have had 8″ and 6″ snow falls. It has been very cold-temps in the single digits-so the snow was not wet or heavy. Even at the street, where the snow plows pile the snow, this Snow Joe handled it.
I had never looked into electric blowers before, until, my old gas one quit. I checked a LOT of reviews, did my homework, and waited for a sale! I was not disappointed! The first snow was 2-3″ of powder, this machine handled it just fine! For a single-stage blower, it shot the snow out a good 10′ or more! VERY EASY to assemble, just attach the handle and plug in! One lever engages the auger, one hand adjusts the discharge, SIMPLE! Very light, and easy to maneuver! Has a light if conditions warrant it! HIGHLY RECCOMEND!! PS; Should use a 20 amp circuit and use the proper gauge extension not longer than 100′, anything longer or lighter gauge WILL affect the performance and longevity of the electric motor!! GREAT MACHINE!!
Very easy to assemble and easy to use. Great for side walks and small driveways. I'm single & older so this is perfect for me. My only complaint is fussing with the cord, but at least I don't have to worry about pull starting. Hit a switch and ready to go.! Also very easy to register for warranty.
Bought this little gem 5 years ago. It worked, not much snow for 4 years. Last year it was a record snowfall. It is a back saver. Good for about 6 inches of dry snow. If you let it get deeper, its your fault. Wet snow is a bit of a challenge if you don't take time to keep the chute clean. It will throw dry snow 20-30 feet with the chute elevated about 1/2 from vertical. When the Snow Joe was brand new I removed the bolts one by one holding the rubber material attached to the auger and added a larger washer under the head of each to give more surface area support. This thing is a back saver. I would buy another in a heart beat if this one quit.
I bought this snow blower in anticipation of a snowy winter. Well the other day we had 15 centimeters(6 inches) of snow and this baby went through it , no problem. While I'm not sure she's 5:00AM quiet, she is not where near as loud as the gas equivalent. As a woman, I wanted easy to operate, light and efficient. This girl checks every box!
This product works as described. A great machine for light snow. Take your time and let the blower do the work.
I'm in my 70s and shoveling off my deck has become a chore.This product is perfect for my needs.It's light,easy to handle,and really eats up the snow.
i received my snow joe for an early christmas present from my kids but we have not had any snow yet to try it out. i do admire it everyday though as i walk passed it on my deck 🙂
I bought this item thinking it was an electric snow blower. One that I would plug in to charge and then use when the charge was complete. Instead, when I received the item, I learned you needed to have it plugged into an outlet with an extension cord to use. Utterly ridiculous. The cord needs to be super long and it gets in the way.