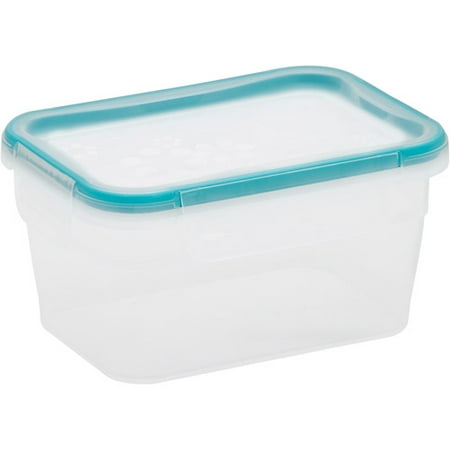 These Snapware Total Solution 6-Piece 5-Cup Rectangle Containers are a great solution for your food storage needs. Each container has a capacity of 5 cups, so you'll have plenty of space to fit your leftovers or packed lunches into. All of the six plastic food storage containers come with lids, which are interchangeable, so you can mix and match as necessary.
Snapware Total Solution 6-Piece Plastic Small 5-Cup Rectangle Containers, Clear:
Includes lids
Six small food storage container
5-cup capacity
Dimensions: 6.92″L x 4.95″W x 3.67″H
Material content: plastic
Limited lifetime warranty
Model# 1109972
Directions
:
Instructions: Safety and Usage Instructions and Warranties: Read these Instructions and Warranties Carefully and save them for future reference. For more information, visit www.snapware.com or call the World Kitchen Help Center at 1-800-999-3436. Snapware Plastic Lids and Vessels: Can be used in a microwave oven, refrigerator, freezer, or dishwasher safe top rack only.
reviews
I work for an airline and this is just the right size to hold my salads and they keep them fresh for days!
I have RA in my hands and wrists. Many of my old plastic containers were very hard to seal completely, resulting in food nog staying fresh and spills in the fridge. These containers are easy for me and if I drop one in the fridge, they don't spill
I throw this in my L.L. Bean boat and tote and off to work I go without worrying about spills.
It was exactly what I wanted & ordered. Also a very good price
I received my first set of Snapware as a gift and have stopped using any other storage container. They are sturdy and seal tightly so that nothing leaks if they turn upside down. There are about 4 or five different size lids that fit multiple volume size containers therefore the lids are interchangeable and the gaskets are color coded so you don't have to guess if it fits. Occasionally one of the snap tabs breaks off, but that does not seem to affect the sealing. These Snapware containers from Walmart are a different size than any others that I have but are still very useful. I wish more stores carried the Snapware product line because it is easier to judge the size "in person" than guess the size by the dimensions given on web sites.
My house has a fairly large pantry; but it was a mess. I ordered several sizes of the Snapware and I'm thrilled. I was impressed enough to make a second order to finish my organization. They're clear and stack; so my pantry is not only manageable but in plain sight.
This is the best food storage I ever had. Even better than the previews containers of this type from the Food Network. It exceeds my expectations