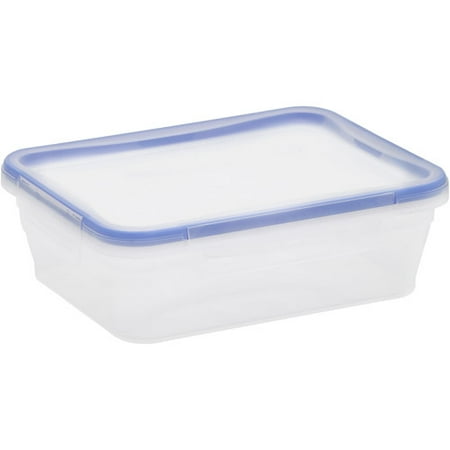 Snapware Total Solution 8.3-Cup Rectangle Plastic Food Storage Containers give you a nice way to save any leftover food. These bowls come with six convenient pieces, providing everything you need to make clean-up after dinner easy. The 6-piece Snapware plastic containers are clear, allowing you to easily see what you place inside of them. 
Snapware Total Solution 6-Piece Plastic 8.3-Cup Rectangle Containers, Clear:
Includes lids
6 pieces
Clear storage containers have an 8.3-cup capacity
Dimensions: 9.15″L x 7.35″W x 3.00″H
Material content: plastic
Limited lifetime warranty
Model# 1109966
Directions
:
Instructions: Safety and Usage Instructions and Warranties: Read these instructions and warranties carefully save them for future reference. For more information, visit www.snapware.com or call the World Kitchen Help Center at 1-800-999-3436. Snapware Plastic Lids and Vessels: Can be used in a microwave oven, refrigerator, freezer, or dishwasher safe top rack only. Do not use in a conventional or convection oven. Do not use on or under a flame or other direct heat source, including on a stovetop, under a broiler, on a grill or in a toaster oven. Always loosen latches or remove lid when reheating. Avoid cutting food inside the containers with sharp utensils. More use & care and warranty details at Snapware.com.
reviews
Secure flaps. Air tight. Bulky to store.
This fits nicely in the fridge. I love them for storing leftovers and for carrying items on picnics and in the cooler.
We use these to deliver our products to restaurants and exchange them upon every new order. It really helps keep our product fresh and lasts longer than disposable plastic packaging that will most likely end up in a landfill.
These containers keep items fresh for a long time. Strawberries and lettuce keep very well in these. I have bought many different sizes, because they work so well.
Hard to get into in a hurry. Seal iss nice though.