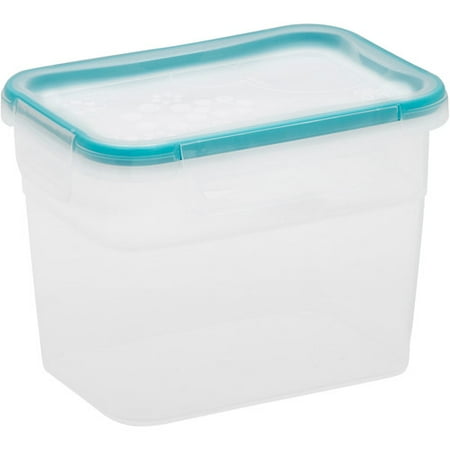 Store your food with ease using the Snapware Total Solution 6-Piece Plastic 7.5-Cup Tall Rectangle Plastic Containers. They include snug-fit lids that help keep food spill-free and safe, even when you are on the go. These large clear plastic containers are just the right size for multi-serving entrees, batches of soup and much more. 
Snapware Total Solution 6-Piece Plastic 7.5-Cup Tall Rectangle Containers, Clear:
Includes lids
6 pieces
7.5-cup capacity
Food storage plastic containers are clear for easy identification
Dimensions: 6.92″L x 4.95″W x 5.26″H
Material content: plastic
Limited lifetime warranty
Model# 1109971
Directions
:
Instructions: Safety and Usage Instructions and Warranties: Read these Instructions and Warranties Carefully and save them for future reference. For more information, visit www.snapware.com or call the World Kitchen Help Center at 1-800-999-3436. Snapware Plastic Lids and Vessels: Can be used in a microwave oven, refrigerator, freezer, or dishwasher safe top rack only. Do not use in a conventional or convection oven. Do not use on or under a flame or other direct heat source, including on a stovetop, under a broiler, on a grill or in a toaster oven. Always loosen latches or remove lid when reheating. Avoid cutting food inside the containers with sharp utensils. More use & care and warranty details at Snapware.com.
reviews
We ordered 10-3cup, 6-5cup and 6-7cup Snapware rectangular plastic containers. The 7cup reads 7.6cup. We ordered these specific sizes because after some research, we found they were all the same length and width, but just varied in height (so that we had 22 of the same lids for 22 containers of 3 differing sizes and all 22 lids nest flat on top of one another less than 9 inches tall). We also ordered 4-16 cup Snapware rectangular containers that had a different lid size to make sure we had something to handle larger quantities of food like soups and stews. The order arrived very quickly in 1 box within 3 days for a century. These sizes and most other Snapware containers can mainly only be ordered online but it was easy, free ship, and could be returned easily by mail or to the store. We could have ordered more non-Snapware types of readily available containers for half the price, but based on our 20+ years of container usage and destruction, we figured this was more cost effectiver and more efficient for nesting storage and secure food storage in the long run. We will definitely consider this for wedding gifts in the future. We love, love, love the Snapware products we ordered and see them being very useful for many years to come. They store away and nest neatly, conveniently, compactly. It's very easy to find the correct lid. They hold food items securely and they are the correct size for stacking in your fridge. They seem very well constucted, durable and should hold up to many years of use in both the microwave and dishwasher. We considered another big competitors locking lid container system because we had good experiences with 6 of their rectangular containers (some shared lids), but the shipping and handling would have bumped the price an extra 50%, and returns and reorders would have been costly and inconvenient. The big competitors locking lid container system is maybe a little more secure having 2 catches on each snapping side, where the Snapware has only 1, but I figured it would be more than adequate for most uses. I also read Snapware reviews that stated they sealed pretty well even when 1 of the snapping sides broke off the lid. Here's the research we did to conclude that we should purchase the Snapware products. We looked at all our old remaining containers collected in our cupboards over the last 20 years. and we wrote down: A) every shape (square, circle, rectangle), B) material (plastic, glass), C) manufacturer (tup, lklk, rub, no name) and D) cup size (1.5, 2, 2.5, 3, 3.5, 4, 4.5, 5, 8, 12, 16), E) which sizes we used most often, F) which ones had a problem for us now mainly because we only had 1 lid left for 3 of our favorite and most used size containers, G) which ones nested and stored neatly and compactly, and H) which types we preferred using (rectangular snap lids because the snap lid was very secure even turned upside down and sometimes shared the same lid), I) which lids were the most secure-snap type, J) which ones been around the longest based on positive reviews so you could most likely reorder in the future at a reasonable price to replace whatever you might be missing due to loss or breakage.