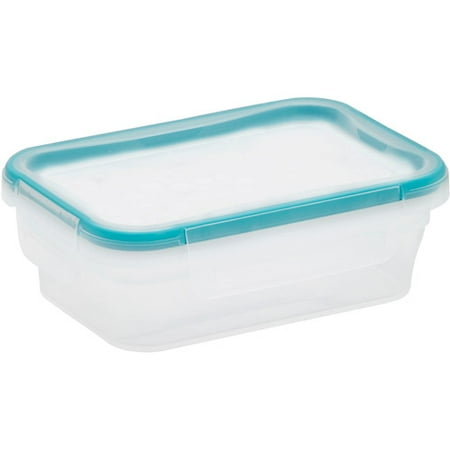 These Rectangle Snapware Plastic Containers are great for all of your food storage needs. They provide a quick and easy airtight seal, so you can pack your lunch and leftovers with confidence. These Snapware storage containers are clear and have a three 3-cup holding capacity. This durable and handy set of plastic containers comes with a limited lifetime warranty for your convenience.
Snapware Total Solution 6-Piece Plastic 3-Cup Rectangle Containers, Clear:
Includes lids
6 pieces
3-cup capacity
Dimensions: 6.92″L x 4.95″W x 2.42″H
Material content: plastic
Limited lifetime warranty
Model# 1109973
Directions
:
Instructions: Safety and Usage Instructions and Warranties: Read these Instructions and Warranties Carefully and save them for future reference. For more information, visit www.snapware.com or call the World Kitchen Help Center at 1-800-999-3436. Snapware Plastic Lids and Vessels: Can be used in a microwave oven, refrigerator, freezer, or dishwasher safe top rack only.
reviews
Lids are hard to store and reheating tomato sauces are not recommended.
I bought these storage containers to be used in a lunch box that has very specific sized pockets. The containers are a bit higher then they are in length which is a bit of a problem for me but essentially they work great. There spill proof so you can put soup and salads in them, there stain resistant so you don't need to worry about reheating spaghetti stains, the nest inside of each other for easy storage, and have been great when stored in the freezer. So to recap the product was great I just didn't see the physical dimensions of the containers listed before I bought them.
Nice containers, are pretty good for the purpose I wanted them for.
Snapware Total Solution 6-Piece Plastic 3-Cup Rectangle Containers, Clear is great for taking lunch to work or school, for kids snacks and for organizing things like screws, paper clips and other small items that you don't want to get all over the place. The rubberized edges allow you to close it securely. The lids also have a rubberized surface for easy stacking. These containers are safe to use in the microwave, freezer and dishwasher, the design allows you to worry about one less thing on a busy morning. I am very impressed with this product and would definitely recommend it to others. Thank you for reading my review.