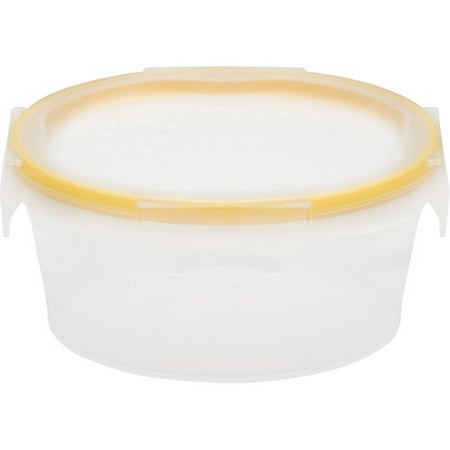 Simplify food storage with Snapware Total Solution 3.8-Cup Round Plastic Containers. This 6-piece set includes three plastic containers and coordinated lids. The ample capacity is sufficient for multiple servings, making them ideal for leftovers. These food storage plastic containers feature a clear finish so that you can easily identify their contents. 
Snapware Total Solution 6-Piece Plastic 3.8-Cup Round Containers, Clear:
Includes lids
6-piece Snapware plastic container set includes 3 containers with coordinating lids
3.8-cup capacity
Dimensions: 6.51″L x 6.51″W x 3.00″H
Material content: plastic
Limited lifetime warranty
Model# 1109968
Directions
:
Instructions: Safety and Usage Instructions and Warranties: Read these instructions and warranties carefully save them for future reference. For more information, visit www.snapware.com or call the World Kitchen Help Center at 1-800-999-3436. Snapware Plastic Lids and Vessels: Can be used in a microwave oven, refrigerator, freezer, or dishwasher safe top rack only. Do not use in a conventional or convection oven. Do not use on or under a flame or other direct heat source, including on a stovetop, under a broiler, on a grill or in a toaster oven. Always loosen latches or remove lid when reheating. Avoid cutting food inside the containers with sharp utensils. More use & care and warranty details at Snapware.com.
reviews
These containers are very versatile in storing food and warming food up. They are a good size and can hold either liquids or solid food. The top snaps on very tight and protects from any leakage. A friend sent me some of her homemade soup in it and I just loved the container. They wash well and are easy to maintain.
These really stayed sealed! Great for packing lunch.
I have used snapware for over a year now and I find that they are versatile and practical. The lids fit tightly, so I have no trouble transporting them to work or friends houses. I'm not comfortable reheating food in plastic containers and snapware, with it's glass container, gives me peace of mind. I find it's better to partially remove the lids before heating in the microwave; or at least vent it. The only problem I have is that the smaller containers are rarely returned to me if I leave them behind. Although no one has admitted it, I think they plot to keep the containers once they've tried them.