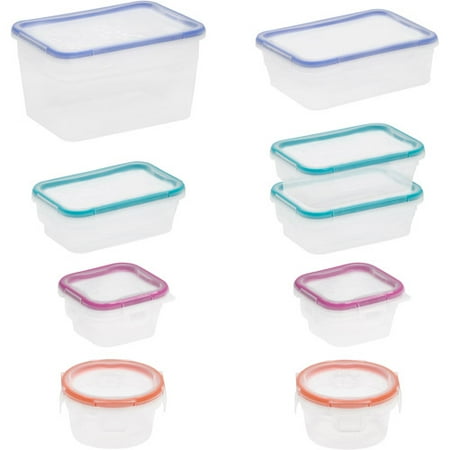 Enjoy convenient food storage with the Snapware Total Solution 18-piece Plastic Container Set. This set comes with a wide range of sizes so that you have a spot to store your lunch, your leftovers and more. Each item features a snap-lock, secure-fit lid to retain freshness and prevent spilling. As clear containers, they offer quick and easy identification. 
Snapware Total Solution 18-Piece Plastic Container Set, Clear:
Includes lids
18-piece food storage container set
3-cup, 1.2-cup, 1.3-cup, 8.3-cup and 15.8-cup capacity
Material content: plastic
Limited lifetime warranty
Model# 1111681
Warnings
:
California Proposition 65 Warning: WARNING: This product contains chemicals known to the State of California to cause cancer andbirth defects or other reproductive harm.
Directions
:
Instructions: Snapware Total Solution Plastic Storage Use & Care: Do not use lids in conventional or convection ovens, under browning elements, or on stovetop. Snapware plastic lids can be used in a microwave oven, refrigerator, or freezer. When using in a microwave, unlatch lid and offset slightly from container. Do not use in conventional or convection ovens, under browning elements, or on stovetop. Before first use, remove gasket from lid and wash vessels, gaskets and lids thoroughly. Snapware can be washed in the dishwasher, top rack only, or by hand in hot soapy water. After cleaning, reassemble by pressing gasket firmly into lid. Avoid cutting food inside the vessels with sharp utensils. Avoid abrasive cleaners and scrub pads. To prevent staining and blistering, avoid overheating of high-fat foods, sugar, oils and tomato sauce. To Write-On use a soft tip non-toxic permanent or wet erase marker in the write here area only. To remove markings, rub using a soft cloth or paper towel or wash the lid. If the ink becomes hard to remove, a few drops of isopropyl alcohol can be used to remove writing.
reviews
The great thing about this product is that it is made in the USA – Thank you. Good product refrigerator to microwave. Also great for portion control lunches. Great for freezing dinners for later use. Makes my fridge and freezer look organized!!!
I had bought this to put one bag of oatmeal. Howevet, I am using it to hold different cheeses.
These containers are so good that I have replaced all of my others with them.
I had purchased a set of Snapware that had some of these containers and found that I used them so much that I just had to have more of them. They're so convenient and, being airtight, things stay fresh so much longer.
I use these for my toddler's lunches at daycare. We're not allowed to use glass containers in case of accidental drops. I'm able to write my toddler's name, date, and food contents on the lid or container with a permanent marker, then easily wipe it off with a paper towel before or after washing. The snap lid seals great with no spills. Has a little staining from pasta sauces. Meals warm up great in the microwave.
This set is durable and cleans well with any method. Do not set lid on container exactly or when the micro turns off and you let it set it will create a vacuum and your container will bend and warp. Do not slap the closures to hard or they could break. Just make sure the correct lid is on the correct container and this should not happen. They make a nice seal and things last longer than the disposable name brand types. They are easy to store since they fit inside each other. Will buy more.
A friend tipped me off about Snapware several years ago. Since then, I've stocked my kitchen with it and have bought it as gifts for friends. It's so easy to use, so easy to clean and keeps food fresh longer than other storage containers. Another big plus – it's made in the USA.
Use for cooking storage. Like snap lock tops to eliminate spillage.
the lid tab rip from the large lid as I was trying to snap it back on not very good product could had a defect I took it back and got Rubbermaid………………