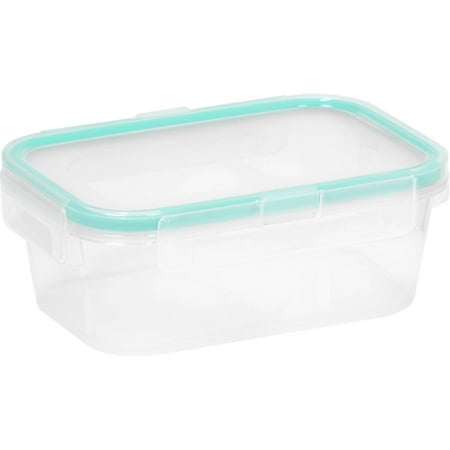 Snapware Airtight Plastic Container, 2-Cup Rectangle Food Storage, offers you an airtight and leak-proof solution for food storage. Features of these 2-cup capacity Airtight Food Storage Containers, 6-Pack, include four-tab locking lids and silicone seals to lock in freshness. These microwave-, refrigerator- and freezer-safe Plastic Food Storage Containers are BPA free and are easy to care for. Snapware Airtight Plastic Containers, 2-Cup Rectangle Food Storage, are ideal for soups, stews, meat, snacks and much more.
Snapware Airtight Plastic 2-Cup Rectangle Food Storage Container, 6-Pack:
Set of 6 pieces
2-cup capacity containers with lids
Airtight and leak proof
4-tab locking lids
Microwave, refrigerator and freezer safe
Dishwasher safe (lids top rack only)
BPA-free containers
Ideal for soups, stews, meat, snacks and much more
Lifetime warranty
Model# 109842
Directions
:
Fabric Care Instructions: Follow instructions provided on the tag or packaging.
reviews
Snapware containers have a good seal and stack well in the refrigerator
The price for these was very reasonable. They are air tight and keep everything fresh. I bought them to replace other storage containers that cost more but were not air tight. I noticed that the food was getting stale so I've switched to these.
Once I received them (and it was a project as anything that could have gone wrong with this order did), they were wonderful. Also, the price was $14.21 per six pack.
I like this product a lot. Good for snacks or packing something for lunch. However, I do have a problem with how hard it is to snap the lid on to the container. I broke one of the wings off of a lid when trying to snap it on; the container side would just buckle. I even tried changing lids around and it still happened. The other container I bought of this style works fine; I do not know why one is malfunctioning. It still seals, despite missing a wing. I like these products but I don't know if I received a container that was too weak on one side to snap the lid on or what. A little aggravating.
I have bought at least 3 dozen of these and use them mostly to store and freeze cooked beans and rice for meals, but they are now almost twice the price, so probably not worth it. I love the product, but not the price.
This is a good container to replace my 2-cup Ziploc round, screw-on lid containers for a number of reasons. First, the Snapware 2-cup container is rectangular and it fits better in my refrigerator as well as my dishwasher. It's also easy to place in my child's lunch bag. Second, the container is air-tight, but may not be leak proof (I haven't tested this, yet). The only caveat is the lid tabs are the default grabbing mechanisms to pry the lid off the container which isn't ideal since these tabs, from what I have read, can break off. Hence, the lids to these 2-cup containers need the corner lift off tab as is present in the other Snapware container lids.
One of the lids covers broke within a few days. One of the tabs that you bend over to hold it closed simply fell off when I closed the lid. Hope the rest of them last longer!