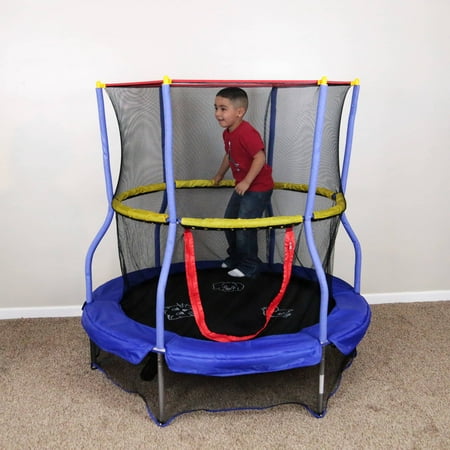 The Skywalker Trampolines 55-inch Bounce-N-Learn interactive bouncer trampoline with enclosure is the perfect solution to keep your child active and entertained. The interactive animal sounds of this kids' trampoline by Skywalker help your child to develop valuable gross motor skills. The 360-degree easy-grip safety ring handle provides little bouncers with protection and support as they learn to bounce. This 55-inch round interactive trampoline features a sturdy, rust-resistant, steel frame and enclosure net upright bars that are padded for safety. This kids' trampoline by Skywalker uses a spring-less design. The jumping mat is made of heavy-duty, UV-protected polypropylene and comes with a safety enclosure with No-Gap Technology. A lower enclosure on the Bounce-N-Learn Trampoline net prevents small objects and children from going beneath the mat. The Bounce-N-Learn trampoline takes approximately 30 minutes to assemble.
Skywalker Trampolines 55″ Round Bounce-N-Learn Trampoline with Enclosure:
Specifications:
Sturdy rust-resistant powder-coated steel construction
Frame dimensions: 55″L x 55″W x 58″H
Spring-free trampoline design using stretch bands
360-degree padded safety handle
Wide protective frame pad
Tightly woven upper and lower enclosure system
Colorful screen-printed trampoline mat
Woven bouncing surface to prevent slipping
1-year frame warranty and 90-day materials warranty
Model# SWTC055.5
Safety Features:
Meets or exceeds ASTM toy safety standards
Assembly Information:
Adult assembly required
Takes approximately 30 minutes to assemble
Includes:
Trampoline frame
360-degree padded safety handle
Jumping mat
Frame pad
Stretch bands
Assembly parts and tools
Owner's manual
reviews
Instructions weren't very specific. Had to improvise and redo a couple steps. Took about 2 1/2 hrs total. Overall still pleased with the product and my 2 &4 yr old boys love it.
I was happy with this product, until i set the whole trampoline and the sounds of the animals don't work.. The box where the batteries are doesn't work. Very upset about this and was really wanting the sounds of the animals to work part of the reason i picked this trampoline!!!!!
Kids love it. Challenging assembly for parents
The bars on the inside are really hard to feed through the foam and connect each bar together.. we used electrical tape to hold the bars together.. but once put together no complaints.. and our 3 year old loves it!!!
My son is Autustic and he loves it great purchase I don't regret buying it
Easy to assemble but the interactive part is not really working. New batteries and the sound is intermittent, it takes a few thumps to get it working. It would be nice if there was padding over the "spring" area since you can hit them despite the net. Overall not a bad deal for the money. Next time I will increase my budget in hopes of finding a higher quality product though.
Two of the net loops detached and completely broke the first night my daughter used this. She's only 40 pounds. It's kind of useless now that the net isn't being held up.