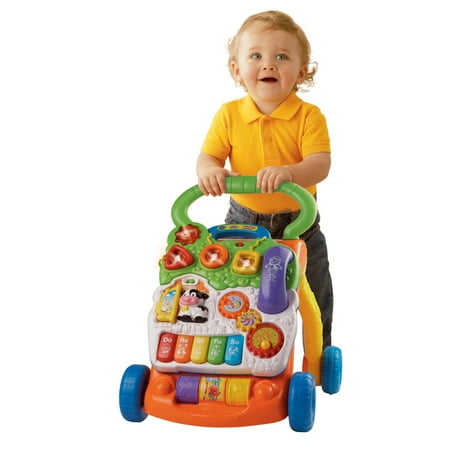 From baby steps to big steps the Sit-to-Stand Learning Walker™ by VTech ® helps your baby develop from a crawler to a walker through adaptive technology. With a barnyard of playful friends to cheer them on, your little one will have endless fun as they learn to walk. Start out with the easy-to-remove activity panel for floor play or on-the-run fun, then step it up with the fun-to-maneuver walker. Spinning gears, five piano keys, three colorful rollers, three light-up shape sorters, three light-up buttons and a telephone handset offers endless fun that will stimulate your babys learning and develop their motor skills. The Sit-to-Stand Learning Walker keeps baby on track teaching shapes, colors, animals, music and more!
Directions:
Fabric Care Instructions: Clean with a damp cloth
reviews
Baby loves it, the removable play console is awesome, my baby looks like a big boy shopping at the supermarket
My mother bought this for my daughter when she was learning to walk and now I'm using it for my son who is ten months old.. both kids love it still and the front detaches for stationary fun as well!
This is her favorite toy. Very versatile. Can be used it sit or stand position. Best price I found!
My son is 11 months old and wants to walk but won't walk without a toy. He has a similar one at daycare so we got one we liked. My son LOVES the songs and being able to take the shapes and phone out of their spots. Good price. Easy to assemble. DONT miss out on this.
I had no problems in obtaining what I was looking for. I also had no problems in the delivery of the purchase as gifts.
My 8 month old daughter loves this toy and the different lights and music. She has one at daycare that she plays with, so I had to get her own for home.
This was a hand-me-down gift from my nephews to my son. My son has loved this toy since he was 7months old and could sit in front of it and hit the buttons to make music play. He learned to walk behind this walker and now at 16 months still loves pushing it around, pushing the buttons, talking on the phone, opening and closing the door by the cow and playing peek-a-boo! It's one toy that I know I can grab and will still keep his interest for several minutes. He always goes back to it!
It comes on with the slightest touch and drains the batteries. After all the controversy over the "ice cream truck song" why was this tune included? I returned the product for a refund and will not purchase another Vtech toy again. It's not always about race but about sensitivity to diversity.