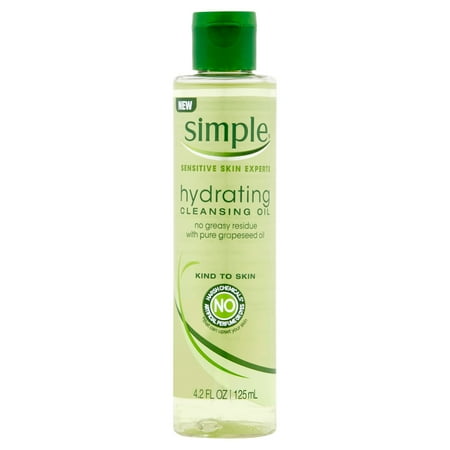 Hydrating Cleansing Oil
No artificial perfume or dyes harsh chemicals*
*that can upset your skin
For naturally healthy looking skin..
Our cleanser with pure grapeseed oil and vitamins A & E removes make-up and dissolves impurities while instantly hydrating your skin leaving it feeling soft and smooth. Non greasy residue. For daily use. For all skin types.
Simple Kind to Skin Hydrating Cleansing Oil:
100% pure grape-seed oil effectively dissolves makeup and deeply cleanses pores
Keeps skin balanced & hydrated
Nourishes and hydrates skin leaving it touchably soft and smooth, without a greasy finish
Contains no artificial colours, no perfume, no harsh chemicals that can upset your skin
Leaves no sticky residue
Dermatologically tested and approved
Goes well with Simple Smoothing Facial Scrub, Simple Soothing Facial Toner and Simple Protecting Light Moisturizer SPF15
Warnings
:
Warning Text: Avoid getting into your eyes.
Ingredients
:
Ingredients: Our Special Blend: Vitis Vinifera (Grape) Seed Oil, Isopropyl Palmitate, Sorbeth-30 Tetraoleate, Phenoxyethanol, Tocopheryl Acetate, Retinyl Palmitate.
Directions
:
Instructions: Remove seal under cap and shake before use. For best results – Step 1. Apply 2-3 drops to dry hands. Step 2. Massage gently over your face. Step 3. Rinse thoroughly with warm water.
reviews
This product is AMAZING! I bought in December because I had areas on my face on the creases of my nose and at the corners of my mouth that were really dry and scaly and my cleansing routine seamed to aggravate it but I still needed to cleanse the rest of my face. I added this to my routine and goodbye dry spots almost overnight. It makes my skin so soft, I just love it!!!
I usually use the simple wipes & micellar water but decided to try this. The hydrating cleansing oil is by far the best product I've used to take off makeup! I put 5-7 drops on the palm of my hand & gently rub it across my eyelids first, then my eyebrows, & then the rest of my face. My face ends up looking like a big ole brown mess but I rinse with warm water & it's all gone. (I wear A LOT of black eyeliner & eyebrow liner so for a product to take it off so quickly, easily, & without harsh rubbing is rare for me.) I still do use my facial cleansing brush & facial wash after I use the oil because I have OCD but that's just me. I absolutely love this product! It's my new fav! Also it doesn't burn my eyes like other makeup removers.
I have troubled, combination (possibly oily) skin but I've been swapping the items I use to focus on hydration to help combat that and balance my skin out. My cleanser was way too drying and left my skin tight so I gave this oil cleanser a try. I actually have some problems with rosacea but this reduced the redness and left my skin very soft. Didn't leave any part of my face tight, dry OR oily/greasy and it helped my skin better absorb the facial oils and moisturizer I apply afterwards which I didn't expect. No break outs either! It can feel strange to some people if you're used to a squeaky clean feeling but nothing on the skin is actually left dirty. Especially after drying with a towel it blots off any extra product and leaves everything more smooth. This doesn't substitute a moisturizer though please moisturize after! The only other thing I'll add is that the instructions say to apply it onto a dry face first but I found that leaving my face and hands damp helped the cleanser spread easier around my face while still keeping to the recommended 3-4 drop amount.
Been using this for a week now, & my skin feels super soft & light. I could start telling the diffrent from the next dat. A lot of my friends have noticed aswel how even my skin tone has become.
I was quite hesitant to use an oil cleanser on my oily skin. I dove in and thought I'd simply stop using the product if I had an adverse reaction. After just two uses, a blackhead that would not budge for months has come to a head and boken.I'm taking it slow and am using it weekly only so my skin can adjust. I will increase the usage to twice weekly in the near future. I'm impressed the hydrating oil does what it claims it will do!
I've struggled with acne since I began college, after having strangely clear skin in high school, and I had tried everything for my face. Over the counter acne washes, expensive products, birth control pills, dermatologist creams and antibiotics- all with varying luck. I was so frustrated until I found this. I started using this as a last resort, having heard that people had luck clearing acne when they ditched hard-core routines. My skin has never been softer and looks great! Using it with the 24 hr moisturizer keeps my skin from being too dry in Wisconsin winters and I love it. Please never stop making this Product!
This cleanser is great for make- up remover. It does not strip or dry the skin. It rinses easily and does not leave a greasy residue. Your skin feels clean.
This product is awful. It is way too oily. I couldnt even get it off with soap.
Simple Kind to Skin Hydrating Cleansing Oil:100% pure grape-seed oil effectively dissolves makeup and deeply cleanses poresKeeps skin balanced & hydratedNourishes and hydrates skin leaving it touc...
Use simple goodness for natural healthy looking skin with Simple Moisturizer The Light formula moisturizes sensitive skin without oil, artificial perfumes or dyes. Be kind to your skin with beneficial...
Garnier Clean + Nourishing Cleansing Oil for Dry Skin: Instantly dissolves impurities and long-wear makeupInfused with nourishing jojoba and macadamia oilsSkin is deeply cleaned, hydrated and feels ve...