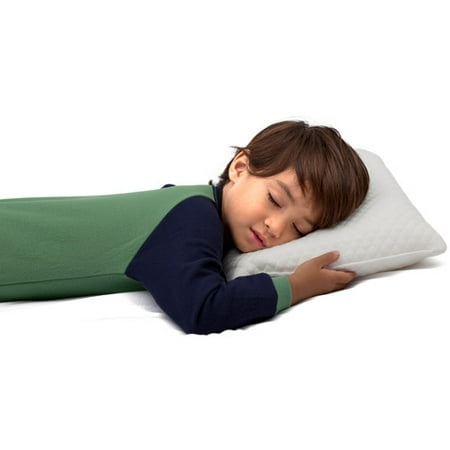 Put toddler's restless nights to bed with the Simmons Kids Beautyrest Studio Toddler Memory Foam Pillow. Sized to cradle a child's head, its unique construction helps to reduce pressure points that might cause a little one to wake up. This Simmons foam pillow is covered in a breathable, quilted, soft knit cover, which creates a relaxed sleeping environment to ensure that little ones will wake up well-rested. Moisture-wicking, it will keep the child's head comfortable and drier than a standard pillow. The Beautyrest foam pillow is tailored to fit smaller head sizes and can be used in the home, car or when out and about. It is a step up for when a toddler is ready to become a "big kid" and use their own cushions. Simple to maintain, it contains a gel that will mold to a child's head to support them more fully. The Simmons Kids Beautyrest Studio Toddler Memory Foam Pillow can also be used for adults in situations where a standard pillow might be too large. Simmons Kids Beautyrest Studio Luxury Memory Foam Toddler Pillow with ThermoCool Cover:

Unique design for restorative sleep and comfort
Ventilated memory foam cradles toddler's head and helps reduce pressure points
High performance ThermoCool removable cover helps to promote cool, comfortable sleeping
Comfy soft quilted knit removable pillow case
Machine washable cover
Water- and stain-resistant inner cover
GREENGUARD Gold and CertiPUR-US Certified
Kids' memory foam pillow dimensions: 16″L x 12″W
ThermoCool pillow cover wicks away moisture
reviews
Small but perfect for kids. Nice quality. Softly conforms to head/neck yet is really comfy and supportive.
Love love love this pillow for my 2 yr old son. Its very soft and comfortable. I want to you it for myself lol
I bought this for a newborn and make pillow cases for it. It is the nicest one I've seen and would recommend it.
This pillow is very comfy but I wish it was a little bigger. My daughter is a crazy sleeper and her head always ends up off it. I bought a toddler bed set and the pillow case was for a standard pillow. Other then that it is great and super comfy.
My grandson loves his little pillow. The pillow comes with a removable, washable cover.
A toddler pillow isn't just for toddlers. They're perfect for my lazy head on the couch. They're a great choice for traveling, and in my home, a cat will fight you for it! Since they are made for toddlers, they have to be put together well and hold up to a kid's abuse. They must be firm, yet soft and have a soft protective cover that can take a lot of washing and not fall apart. To me, a much better buy than most small pillows. I've bought so many that have no support, flimsy inside and out and hard to keep fresh and clean. And most of them were more expensive, and not to mention, never with covers. It's very firm and very soft which is extremely hard to get in one pillow! The memory foam is soft and bounces right back to its original shape. It also has a moisture barrier to keep out stinky smells and germs. Both the pillow and cover have very strong stitching. I've already washed the cover a few times and no signs of loose stitches or fraying. A hot washing doesn't change the shape at all, nor does it pill or diminish any of the softness. I'm sure most adults wouldn't use it on the bed, but I use a small pillow and it's the perfect pillow topper for me. I will mention that the cover does retain a little heat, I can feel it slightly on my ears, and that's probably because my head is heavier than a child's so it probably isn't an issue with the kiddos. Just thought I would mention it. This pillow is not only a great choice, but a safe choice for your little one. It's a 5 star pillow. It would make a great cat bed too. Cat beds are costly and a big pain putting in the washer. Just washing the cover is a lot easier. I see the cats eyeballing it. I just love it……for now.
When my husband and I converted my daughter's crib into into toddler bed, we decided she would need a pillow to sleep on. Since she did not have a pillow as an infant, we felt a small toddler pillow would be best to start with, so I found a nice soft (non-memory foam) pillow, which she loved. She has always been a great sleeper and so far, does not snore, but thought it might be beneficial to see if she would like a memory foam pillow instead. I personally sleep on my own memory foam pillow every night because of the support it offers my head, neck, and shoulders-giving me a more restful night sleep. My daughter is very particular in everything she is exposed to, so I knew we would know right away if she did not like the memory foam pillow and go back to her original soft pillow. If rejected, the pillow would have been tossed off the bed and she would have run straight to the linen closest to plead for her old pillow back. However, she indeed loves the pillow and has just as well on it every night. She has yet to switch back to her old pillow (even when battling a cold), so it must be here to stay. It is a nice size (12″x16″), has a soft washable pillow case, low memory foam smell, and the pillow itself is water and stain resistant. It is great for traveling with as well. She may or may not want to go back to a soft pillow once she is in need of a bigger pillow (it is recommended for ages 2-5), but for now I am happy that she getting great support and restful sleep.
This pillow is hard as a rock…absolutely no give. I returned it.
Simmons Kids Beautyrest Studio Luxury Memory Foam Toddler Pillow with ThermoCool Cover: Unique design for restorative sleep and comfortVentilated memory foam cradles toddler's head and helps reduce pr...