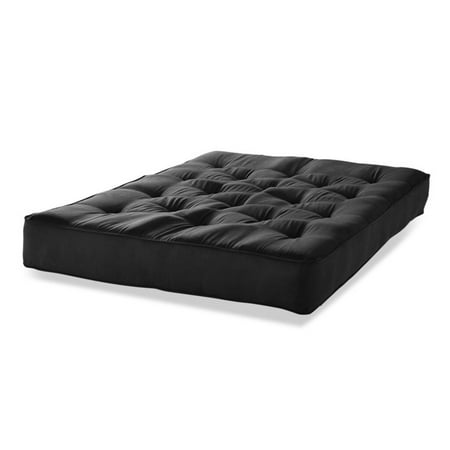 Folks swear by the relief that the Simmons Beauty Sleep 8 in. Pocketed Coil Innerspring Futon Mattress brings. This dreamy futon mattress feels wonderful whether you're upright or lying down for a nap. Its wrapped coils provide exceptional comfort and back support and the dense memory foam cushioning takes the pressure off your tired joints while luxurious microfiber upholstery gives this tufted mattress a luxurious touch.
Dimensions
Queen: 80L x 60W x 8H inches
Double/Full: 75L x 54W x 8H inches
Simmons One of the world's leading names in the bedding industry, Simmons is known for introducing innovative bedding designs. From their Beautyrest Pocketed Coil technology to their new Recharge Sleep System, Simmons products are designed to help you get a better night's sleep and encourage a smart sleep routine.
reviews
Firm and comfortable. Let the mattress air out for a few days as it comes vacuumed sealed. Color is a deep charcoal grey, looks fab!
Quick delivery! Got it one day sooner than expected and it's one of the most comfortable futon's I've ever slept in!
Perfectly fit my queen futon frame. Very nice material and does not say when set up as a couch
I bought these futons to be used as guest beds. They are comfortable to sleep on, and when setup as a couch, they are very comfortable for sitting as well.
Not quite as thick as I would have liked, but comfortable and easy to move.
The mattress is comfortable, but it is hard to maneuver the pull out part , not sure if it Bc if the bed or mattress…
I bought the midnight blue which is beautiful. I love the color. The mattress is very comfortable to sleep on. But when folded for the sofa position, the inner coil mattress bunches up near the fold and is not as comfortable for seating. A bunch of pillows helps though and looks great.
Choose from the available size optionsBeautyrest pocketed innerspring coil constructionTufted fabric upholstery in your choice of color8-inch thick visco foamIncludes 2-year manufacturer's warranty Fe...