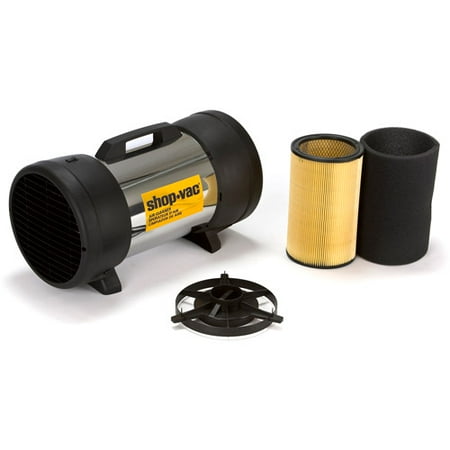 Quickly and efficiently dry wet carpets and floors with the Shop-Vac Air Cleaner, 1030100. Features of air management system include 120V, 60Hz and 5 amp electrical specifications and an airflow speed of 1,600 CFM. This heavy-duty air cleaner offers three convenient speed air controls, allowing you to control the amount of suction that you need for each specific job. A collapsible transport handle makes maneuvering and transporting the system a breeze. It also features a setting for drying ceilings.
Shop-Vac Air Cleaner Air Management System, 1030100:
Electrical specs: 120V, 60Hz, 5 amps
Weight: 50 lbs
30′ cord
Airflow: 1,600 cfm
3-speed air control
Collapsible transport handle
Units are stackable for easy storage
reviews
We are a small commercial wood restoration shop. When doing sanding operations we generate what I would call micro-dust. Although whole shop systems do a good job of managing particulates we find the portability of this unit is perhaps its' greatest feature. Being able to put it directly at the point of dust generation makes for a much cleaner working environment without adding more extreme noise or complexity to our operations. i highly recommend this unit.
I am very pleased so far as to the performance as this machine removes must of the damaging dust resulting in tile grout removal. I would note a disappointment in the manual which does not show how to change the air filter or clean it. Still it does the job and one can remove the two screws opposite side of the switch on the top and access the filter. I would recommend some compressed air to clean this filter for further use. This is one of those things in your garage you will keep for future use for other projects.
After completing the interior of a log house and the roofing started the dust was everywhere day after day – the shop-vac helped eliminate the need for dusting all those logs. It's a bit noisy, but worth putting up with!
The size and weight of this ShopVac 10300 would have been almost ideal for my very small workspace. And it is very quiet. When I first turned it on and put my hand at the intake I felt the airflow was weak. In my wood-shop I put the unit on the floor right under where I cut a small piece of wood with my jig saw. The unit picked up about 75 percent of the dust falling to the floor. The rest of the dust landed on the floor. I would have to clean that up separately with my shop vacuum. Therefore, using the Shop-Vac 10300 was of little advantage since I would have to clean up the floor with or without it. I then put the unit's intake about three inches from my scroll saw. All of the dust from a cutting remained on the scroll saw table. None of it was pulled in by the Shop Vac. I returned the item to the store.
Keep your workshop cleaner, healthier, and safer! This filter captures particles as small as 5 microns in a 290 sq/ft room every 10 minutes. It can be used on bench top, floor, or mounted from the cei...