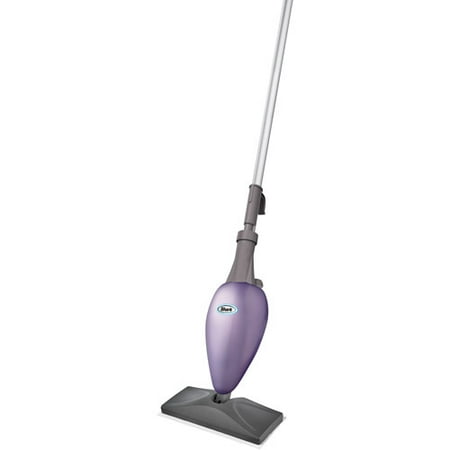 Wash and sanitize your floor with the Shark Steam Mop S3101. With triple-layer, steam-activated microfiber pads, this cleaning aid will loosen, lift and lock in the dirt. At the same time, its steam sanitizes surfaces, killing harmful germs like E. coli, and other bacteria. Dry in just 30 seconds, it has been found to be 99.9 percent effective. This hard-floor mop works completely free from harmful chemicals so it makes a good fit for those caring for pets and children. It features a high-tech, ergonomic design with a soft-grip handle, allowing easier, strain-free maneuvering. This Shark mop comes with one washable microfiber pad, a quick-release cord and a filling flask.
Shark Steam Mop, S3101:
On-demand, steam-natural mopping motion delivers super-heated steam in just 30 seconds and dries almost immediately
Shark mop provides 99.9% sanitization against germs and bacteria
Includes 1 washable micro-fiber pad to lift and lock in dirt-no more messy mops and heavy buckets
High-tech, ergonomic design has a soft-grip handle and is easy to maneuver without physical strain
Has a quick-release cord, 20′ power cord, you can easily store and release
Safe cleaning on hard-floor surfaces; especially good hardwood floors
Hard-floor mop includes filling flask
Its triple layer, steam activated, microfiber pads loosen, lift and lock-in dirt
Cleaning appliance
Chemical-free cleaning is good for those caring for pets or children
Reviews
Great for hard surfaces. Second purchase of this item as my wife wore the first one out and had to have another just like it. That says a lot when she wants one like the one that quit.
I'm so in love thanks Shark great product!!!! Worth every single dollar!!!! I would recommend it save so much time.
My Mother In Law purchased this for me last year, and I used it all the time. My son broke it, and I went and purchased just a traditional mop. Well, it is NOT the same! The steam mop works so much better. Cleans up all of the nasty spills, and dries up very quickly. Even when ringing out the regular mop, it took half an hour for a room to dry. Definitely will not ever go back!
Just got it and appears to work as advertised. Was easy to put together, and not very heavy. My mom has one and loves it too.
I loathe mopping with the traditional mop and bucket, so I never did it. With pets, children, adults and bad weather messing up my floors, I decided to try this product. It saved my life ! I actually LOVE mopping all of my floors now ! I have recently been suffering from the onset of arthritis pain , so I was concerned at how difficult this might be for my hands. It is so easy and light, that I don't hesitate to grab it even for small jobs ! I loved it so much, I just sent one to my Mom (who has osteoarthritis ) for Mother's Day ! She LOVES it !! Don't hesitate, order NOW !
My wife had this one before, then she had bought the swiffer. With the swiffer she had been using a lot of the pads and spending a ton more money. We bought this one and it seems get the house cleaner and all we do is wash the pad to reuse it. Bought more pads for a cheaper price than all the swiffer pads we were using. #loveit#
The first time you use it you may see alot of dirt because your old mop didn't do its job. I found using two pads for the floors helped and each one was dirty. After that with regular steaming it went great
I was given one as a gift years ago and loved it but I gave it to my mom since hers broke. I've since been itching to get a replacement since I miss having squeaky clean floors. Well, apparently this is NOT the right model! This one is the lower model and silly me though "what's the difference?" Although it does the same job in terms of sanitizing floors, it is not easy to maneuver. 9 times out of 10, when I push forward and pull back, the bottom part of the mop flips over and scratches my floor. It's very hard to maneuver! I will be returning and trying my luck with the S3251, which I don't know if it's the right model either but crossing my fingers!