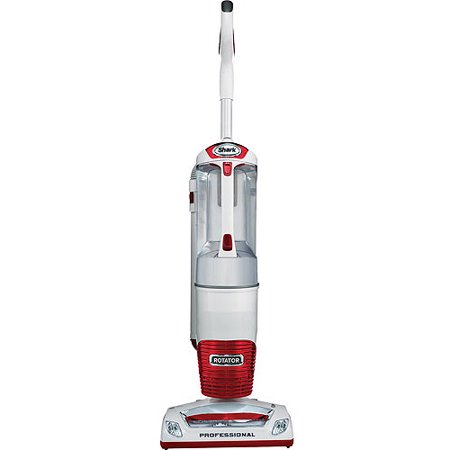 This lightweight, never-loses-suction Shark Rotator Professional Upright Vacuum NV400 is ultra-maneuverable, featuring enhanced swivel steering for better control to maneuver in and around furniture. It also features ultra-quiet technology for operation anywhere, anytime. The Shark rotator upright vacuum's Anti-Allergen Complete Seal Technology traps over 99.99 percent of dust and allergens. It includes an extra-long cleaning reach wand, pet power brush and other premium tools, including a 24″ flexible crevice tool and a three-in-one tool that ride on board for versatile cleaning throughout the home and beyond. The premium power nozzle comes with powerful headlights for illuminating dark spaces and the brushroll can be turned on or off, providing superior performance on both carpets and bare floors. Ergonomic handles and an extra-large capacity bottom-empty dust cup make this item so easy to use. A generous 30′ power cord provides maximum range for cleaning a large area The bagless design means that you save time and resources by not having to purchase or install any bags. It's lightweight, which makes it easy to transport or operate for an extended period without developing strain or fatigue.
Shark Rotator Professional Upright Vacuum, NV400:
Rotator technology with enhanced swivel steering and better deep carpet cleaning
Anti-Allergen Complete Seal technology
Shark rotator upright vacuum never loses suction
Lightweight and ultra-quiet operation
Extended above-floor reach and premium pet tools
Ergonomic handles
Extra-large capacity bottom-empty dust cup
Bagless upright vacuum saves time and resources
18″ fixed crevice tool
Dusting brush
Premium power brush
30′ power cord
5-year warranty
Model# NV400
reviews
When my other vacuum bit the dust, I was debating on what new one to buy. Vacuums barely last 2 years in my household so I usually only spent about $100 on them. I took a few days online reviewing prices and features. I will admit that this was more money than I am used to paying for a vacuum, but someone I know also has a shark vacuum and highly recommended it. After considering a different (cheaper) brand, I decided to cough up the extra $50 and take a chance. Well, I have been using it for over a week and LOVE it. It works so well and my floors have never looked better. It says it never loses suction and has a 5 yr warranty. I am sure I will be putting it to the test. Fingers crossed this might be worth every dollar I paid.
I love, love my new Shark! I have bought more expensive and cheaper. Nothing out sucks my new Shark!
We've had this vacuum for almost a year now and we're still pleased with it as the day we first purchased it! No problems, not cheaply made, practically pulls itself it has so much suction, easy to empty and clean, no complaints. Highly recommend!
All of a sudden my vac won't come on at all. Has anyone else had this problem. It is about a year old. HELP
My cousin recommended this vacuum to me and I am so glad she did. We both have had Dysons in the past and this one blows them out of the water, for less than half the price. I've had my mother and my other cousin buy them too. They love them as much as we do.
I love Sharks. They are monsters about dirty. I had the shark lift away before this one and it was great . I didn't like that I attachments fell off vacuum though. And I didn't use th ed lift away park much. AND that's why I didn't get a lift away again. so far with this one I have no complaints. Its great and I like how far it reaches. Like the light on it and how it routes in every direction.
Ive had no issues with this and it works better than any dirt devil or bessell vac that I have ever purchased.. Very easy to clean the filters too
I have had few bissell vacums before that seemed to work okay until I bought this bad boy. After you start using this , you will realize how much more dust can be sucked up or was left behind. Its brush is extremely good and works really well in picking up the fallen hairs from carpet. I have used it for close to 2 years now and have not faced any problems with it. Easy to clean & maintain. Comes with regular accessories.
I loved this vaccum at first!! It worked great for a year and a half. But then out of nowhere the brush stopped spinning. We checked the belt and it was fine. The motor is burned up and i can't replace it. I paid alot of money for this and it didn't even last twoyears!!!! Very very.dissatisfied!!