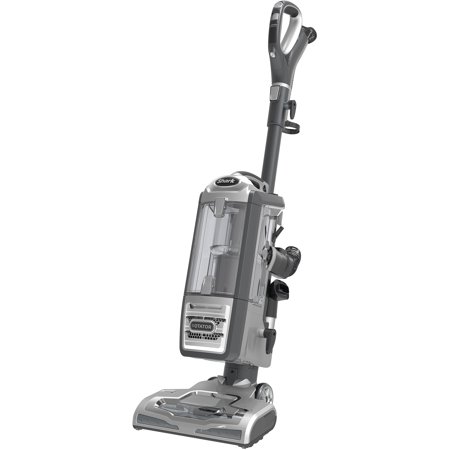 The NV650 Shark Rotator Lift-Away Vacuum has a motorized brush, providing uninterrupted floor to ceiling cleaning. Easily clean under and around furniture, above the floor, and reach hard to reach areas around your home. The high-powered LED illuminated handle and nozzle on this Shark Lift-Away vacuum spots hidden debris for a more thorough cleaning. Fingertip controls seamlessly transition between hard floors and carpet. This bagless upright vacuum cleaner instantly transforms to a portable canister and makes for effortless cleaning throughout your home. The new Hard Floor Genie offers the ultimate bare floor cleaning experience and includes a washable microfiber pad. Advanced Swivel Steering provides the ultimate control. Anti-Allergen Complete Seal Technology plus HEPA traps over 99.99 percent of dust and allergens inside the NV650 Shark Rotator Lift-Away Vacuum.
It features a crevice tool, a pet upholstery tool, and a dusting brush. A 30-foot long power cord makes easy work of cleaning large areas.
Shark Rotator Powered Lift-Away Bagless Vacuum, NV650:
Powered lift-away: Motorized brush in lift-away, deep clean with extreme under furniture reach
Bagless upright vacuum cleaner is 3 vacs-in-1: 1) powerful upright, 2) lift-away pod with powered brush roll, 3) convenient canister with caddy
Hard-floor genie attachment for superior bare floor cleaning with washable microfiber pad
Anti-allergen complete seal technology + HEPA/washable filters
NV650 Shark Rotator Lift-Away Vacuum is lightweight and ultra-quiet
Rotator technology with advanced swivel steering
LED lights on floor nozzle and handle to illuminate work area
Shark Lift-Away vacuum has never loses suction technology
Dusting brush
Caddy
Hard floor genie with 1 pad
New pet upholstery tool
Accessory bag
5-year warranty
Model# NV650
reviews
Product is just what was needed to pick up. Suction is great. For me, it was a little difficult putting together, however, once together it ran like a charm,
I have a combination of hardwood and area rugs. I easily able to change between the surfaces. Would purchase another Shark vacuum.
This is the best vacum I have ever owned! I had an older model shark, it was time to upgrade. I will never buy anything but shark!
I have swapped my Kirby for this Shark model. The Kirby is wonderful but too heavy for me. The Shark is as good as my Kirby but much easier to handle and navigate. I love the fact that all filters are washable and donnot need to be replaced. I am glad to no longer have the expense of replacing bags and belts. I am a pet owner with 3 cats and a very large mix breed dog who sheds year round. I could fill a bag with his fur alone! Now all I have to do is dump the cannister. Much healthier environment since making the switch. I am also a lifelong asthmatic so this is real deal maker!
My son bought this for me because my current vacuum, while great 20 years ago, was just not doing well any more. With 7 dogs and 1 cat the hair and dust is just horrendous in this house. The Shark is the answer to my prayers. I can get under every piece of furniture in my house now and can even vacuum the drapes and walls. It works as well on hard flooring as it does on carpet. I'll never go back to the old bag type uprights and I'm sure that this vacuum cleaner will last me for many years to come.
This vacuum works as advertised. In fact the rotator brush will pull you like a self propled lawmakers mower. My old vaccum would chase the dust bunnies this one sucks them no chasing them.
It pulled so much sand and debris from my carpet the first time I used it, I was astonished! It's also excellent for my tile floors. My only complaint is its heaviness. Otherwise it's amazing!
So I purchased 2 of these vacuum's within one year they have been recalled for a power issue and in the head of the vac that connects to the body, the hose has split on both of them. Really? You have got to be kidding, called Shark and they were more than happy to replace them (3-5 days) so what do you do in the meantime? I have owned uprights for years and NEVER had this happen. I will NEVER purchase another Shark product. It's cheaper to buy a $100 Hoover or Eureka every year!