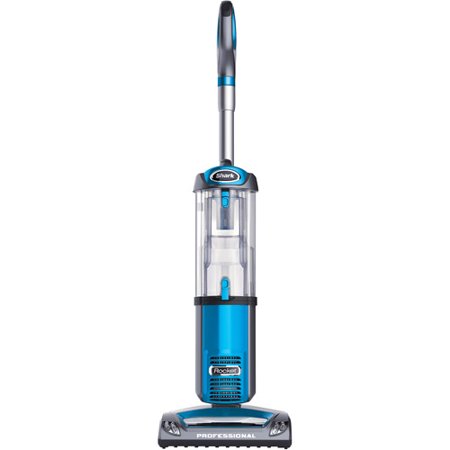 This lightweight Shark Rocket Professional Upright Vacuum is ultra-maneuverable, featuring enhanced swivel steering for better control to maneuver in and around furniture. The Rocket Professional also features Anti-Allergen Complete Seal Technology that traps over 99.9 percent of dust and allergens inside the vacuum and ultra-quiet technology for operation anywhere, anytime. The vacuum includes premium pet tools for versatile cleaning throughout the home and beyond. The deluxe motorized brushroll comes with powerful headlights that illuminate dark spaces, and the brushroll can be turned on or off, providing superior performance on both carpets and bare floors. Ergonomic handles and a large-capacity, bottom-empty dust cup make this so easy to use. A generous 30-foot power cord provides maximum range for cleaning large areas.
Shark Rocket Professional Upright Vacuum:
Hard floor, hardwood and carpet multi-surface cleaning
Upright vacuum
30′ power cord
Ergonomic handles
Never Loses Suction Technology
Anti-Allergen Complete Seal Technology
Rocket Technology with enhanced swivel steering and better deep carpet cleaning
5.5″ crevice tool, 18″ crevice tool, pet turbo brush and pet hair power brush
Brushroll on/off switch
Bagless bottom-empty dust cup
Headlights
Lightweight at under 13 lbs and ultra-quiet
5-year warranty
reviews
I have a Dyson that works ok. But the extension hose always gets stuck in tube. Apparently this is not covered in their warranty because they consider it hose damage. So, I have been looking for a replacement. This Shark has several ways to connect the attachments onto the hose. It is easy to switch from the floor vacuum mode to the hose attachment mode at either a short length (good for car vacuuming) or mid length ( good for baseboards where you don't want to bend over.) It swivels easily to get around chairs. It doesn't have a huge canister. So it needs to be emptied frequently. This fairly small size is well worth the advantage of being able to easily carry it up stair steps. The hose is also not very long. Again, this is a good tradeoff for a less cumbersome vacuum. It can easily be carried to where the attachment is needed (use a ladder). The light is an additional plus for dark corners.
Works great, good suction, gets up everything, & I did not find the bin to be too small or have to empty too often. My only complaint is that the attachment to reach up into corners could be a little longer. However for the price it can't be beat.
Love this small vacuum. The suction is great. It does have a small width cleaning surface but the weight make it find for my useage.
I vacuumed with my old vacuum first – then used the shark – so much dirt was left from my old one! Suction is really good. Only thing I don't care for is the hose isn't quite long enough for several cleaning jobs and makes it awkward to use it when detached, but even so it work well.
This is the Best vacuum ever!!! It has so much power and the "lift off" feature works well and has all the tools that you need. It is not real heavy….pretty light weight!! Easy to use and very user friendly. Love the no bags too.
I just moved into a small apartment and found that there were bed bugs. After using every other product on the market I discovered Diatomaceous Earth, which is like a bag full of drywall dust. I spread the stuff all over the place…used about 4 pounds of it. After a few days of tracking thru it (it worked, by the way), I bought the Shark and began sucking it all up. It didn't take long for the dust bin to fill. But I was so anxious to use my new vacuum that I only read the assembly instructions (simple to do). I didn't even notice the "Dust Bin" button, which easily releases the bin for emptying. I saw the clip at the bottom of the bin and pushed it, thereby opening the bottom of the bin and dumping everything all over the bottom of the vacuum and the floor! So I had to put the Shark back to work sucking it all up again, which it did again with no problem. As for emptying the bin, I have read reviews that complain about it filling up quickly. Given the mess I had to clean up it sure did. I had to empty it about 6 times. In any normal case you might have to do it twice. But who cares? It takes all of about 20 seconds to snap it off, empty it, and click it back on! It sure beats having to deal with a bag! Well, it does if you do it right. This appears to be a great vacuum, just don't be stupid like I was. Read all the directions. Or at least look it over real good and familiarize yourself with the buttons before you use it. This Shark is easy to handle (it even propels itself when the brush is on), has great suction power, and the headlights are a nice touch too. Only improvement I can think of would be a retractable power cord, but that's hardly a deal breaker.
What an awesome machine. Powerful, lightweight, great reaction movement and so much more. The only bad thing was it wasn't in store when I needed it.
This vacuum really "SUCKS" in a good way. From the on board attachments to no bags to buy its great. You can get to hard to reach places above your head, behind your sofa and under the furniture with the extended wand which is just a push of the button to attach. The floor to rug again, just a push of a button. To empty, guess what push of a button. It also seems to "self propel" as I do the carpet so no muscle needed. Yes I would recommend this model and there are many to choose from. If you want a vacuum that does it all and really "sucks" get the Shark Rocket Professional
Good machine for a good price. Only strange thing is there are not enough places to hold all the tools. But it's still the best vacuum I've had in ages.
I wish you could give less,than 1 star. This vacuum works ok on bare floors, cheap thin, low pile rugs but will not work on nice carpet. Our carpet is about 2 years, very good quality, thick pile carpet. When you try to vacuum the carpet, the roller stops and the red light indicating it is clogged comes on immediately. It says it is for all floors, but will not work on decent quality carpet. Will not even bring home another Shark. Very disappointed.