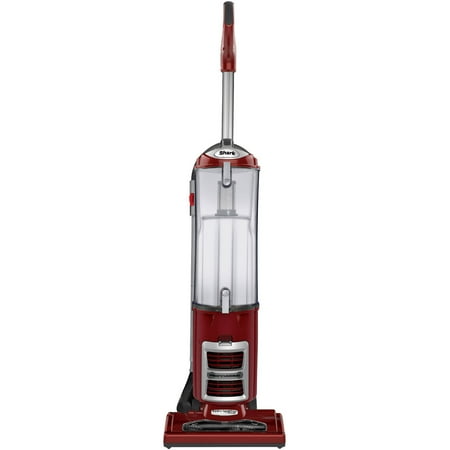 A powerful, lightweight XL-capacity upright with swivel steering for excellent control when maneuvering around furniture. It has a completely sealed system with a HEPA filter to trap dust and allergens inside the vacuum. The extra-long wand and hose provide extended reach for versatile above-floor cleaning.
Anti-Allergen Complete Seal Technology + a HEPA filter. Traps 99.9% of dust and allergens inside the vacuum.
Extra-large-capacity, easy-to-empty dust cup. Extended cleaning without interruption.
Powerful and lightweight. Portable and versatile at only 15.2 lbs
Swivel Steering. Excellent control for maneuvering around furniture.
Brushroll Shutoff. Deep carpet and gentle bare floor cleaning.
Wide Pet Upholstery Tool
Dusting Brush
5.5″ Crevice Tool
Dust Cup Capacity 2.9 dry quarts
Cleaning path Width 9.25 inches
Wattage 1200
Cord Length 25 feet
reviews
Had bought a Shark MANY year ago. Needed a new one as passed on the other one to the daughter. NEED this machine !! GREAT….Like it a LOT !!! RECOMMEND it to others. !! GREAT MACHINE !!!
This vacuum was very easy to assemble – even I could do it, did not even need a screw driver. The vacuum is light weight and visually appealing. As to how it works – fantastic! It even works on my shag rug. I would definitely recommend it!
I am very happy with my purchase. It came when the delivery date was projected and it works awesome!!! I hadn't ever used this site before and I definitely will again in the future. Thank you so much. It's scary trying to find an online site I can trust.
First, I have to say this is the best vacuum I have ever owned! It was a little tricky getting the ONE screw in the whole thing lined up, but once that was in, it went together very easily. I love the way it swivels to get in and around corners. It's a little bit heavy even though the box says lightweight, but not bad. It has a complete sealed hepa system so is great if you have allergies! Comes with several tools which help so much if you have pets! Includes a wide upholstery tool and a 5.5″ crevice tool. Has a huge capacity reservoir for dirt and a super stretch long tube you can detach to use the tools. I love this machine!! Works on both carpet and bare floors. Very easy to follow instructions.
Shark Navigator Professional Upright Vacuum Shark Navigator® Professional Upright Vacuum is absolutely wonderful. I was using a heavy duty shop vacuum that was very heavy for me to lift. However, the Shark Navigator® Professional Upright Vacuum Cleaner is mid weight so I able to lift it up and down the stairs. I also had my husband and son try out the vacuum for more input. I have a German shepherd that sheds year round. I could not believe how well and how much dog hair the Shark Navigator® Professional Upright Vacuum picked up. I used the hose for the stairs and was very easy to use and to lift up the stairs (as that was an issue I had with my other and now last vacuum). My husband tried the V in one of the bedrooms and it was so easy to use and how much more the Shark Navigator® Professional Upright Vacuum picked up compared to the huge shop vacuum that we have. My son also tried the Shark Navigator® Professional Upright Vacuum he used it in his bedroom and the huge walk in closet that he has that is straight floor. It was very easy to change from rug to bare floor and he also used the attachments and was very pleased with the results. It was also very easy to assemble. I will definitely recommend this vacuum.
Had this now for 2 weeks. Very easy to assemble . A little heavy but works very well on our Carpets & our Laminate floors. We were impressed how quiet it was & the suction it had. Also the tools that were included were very useful. the price was very very good. Also it seems to be well designed. Look forward to years of use.
I waited a week or so before reviewing this vacuum cleaner so I would have a better idea of how well it sucks up dust and debris. I have only hardwood floors in a one-level 1100 square foot home. It did seem to get everything up, but there wasn't as much as I thought there might be. Especially since I take the dog in and out of the house several times a day and consequently track in a lot of grass clippings, etc. But the floors looked clean! It is top-heavy which is understandable for this type of vacuum and it is pretty easy to maneuver. For an older person (older than 61) it might become heavy before you get through vacuuming a larger house than mine, especially with carpet. Any vacuum like this might be difficult for some to carry upstairs to vacuum. It would only get under my kitchen cabinets if I pushed it straight in, but it did get everything. I just had to hold the regular handle and the handle on top of the canister and slide it sideways underneath the cabinets. It does have great suction and when using the attachments and if you are going over rugs, it will pull them up when you pull back on the vacuum. The little long narrow attachment kind of curves on the end and fits right against my baseboards and got all of the dust, which is awesome. My favorite thing on this vacuum! It's very easy to put on the attachments, and extremely easy to clean out after you've finished vacuuming. It was very simple to put together, and very simple to operate. I can't speak on how it does on carpeting, but overall, it's a good vacuum and I could recommend it for single story home owners.
I have to start out by saying that my current vacuum cleaner is a 20 year old Hoover upright and I can't help but to compare this Shark Upright to it. I received this product for free for the Spark Reviewer Program. I gave it a thorough testing and should mention that I only have hardwood floors, no carpet or area rugs. Both vacuums are corded models. The first thing I noticed about this Shark vacuum when I was assembling it was that that while it has 3 hand-tool attachments to be used with the hose/wand, there was only built-in storage for the crevice tool and the brush. That left the upholstery tool to find its own home. What I liked about the vacuum was that is was definitely more maneuverable than my Hoover and could swivel around my furniture. It also uses a a cup (an especially large one!) to collect the waste instead of my Hoover's expensive bags. It also has a HEPA filter. The price you pay for not having to use bags though is having to wash 2 of the filters once a month and leave them in the open air to dry for 24 hours and the same for the HEPA filter once a year. The Shark vacuum definitely had good suction. There is even an adjustment you can make on the hose/wand to lessen the suction when you use the vacuum on area rugs. I couldn't see any difference in suction when I adjusted it. The biggest drawback to the Shark vacuum as compared to my Hoover has to do with the hose/wand. On my Hoover I can use both the hose/wand and vacuum simultaneously should the need arise to use the alternate method while on the Shark it's an either/or proposition. If you wanted to switch to the other function you had to stop the vacuum and swap out to the hose/wand or vacuum. The hand tools did an adequate job on the Shark vacuum. The waste cup was easy to empty on the Shark vacuum, and it was easy to re-install it for future use. The biggest difference between the 2 vacuums had to do with their weight. But considering the full functioning of my Hoover vacuum without having to stop to use the hose/wand I still prefer it over the Shark vacuum–even if it means still having to use bags. I'm not sure I can give the Shark vacuum my wholehearted recommendation.