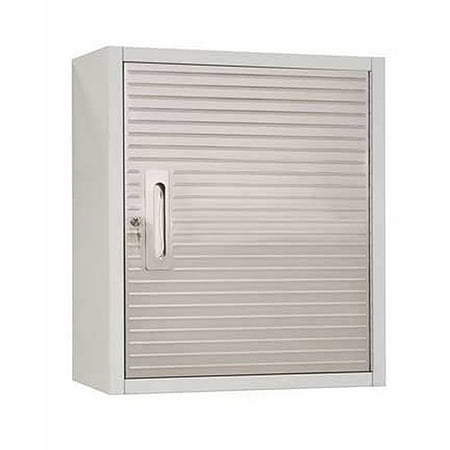 Create a place for loose tools and supplies with the UHD20209B Seville Classics Wall Cabinet. It has a powder-coated steel body with a stainless steel door that conceals items from view. This wall storage cabinet has the capacity to hold up to 200 lbs and includes and adjustable shelf enabling you to place odd shaped items comfortably. It's ideal for setup in a garage, basement, office, mailroom or warehouse. The built-in lock allows you to secure items. This cabinet comes with an easy mounting bar and all necessary hardware for fast assembly.
Seville Classics Ultra-Heavy-Duty Wall Storage Cabinet:
Stainless steel door with key lock
Powder-coated steel body
Ultra HD wall cabinet includes easy mounting bar with screws and anchors
Adjustable shelf
Patented design
Loading capacity: 200 lbs
Dimensions: 24″W x 12″D x 28″H
1-year limited warranty
Model# UHD20209B
reviews
Easy to follow directions, strong and sturdy, easy to keep clean
I have built an entire shop with these cabs at my other home and would purchase no other manufacturer. They manufacture the complete package, wall cabs, work stations and large storage cabs.
I bought 4 cabinets a few weeks ago. Very easy to put together. Cabinets are very nice looking and sturdy. I think they are a good deal, very much worth the money. The only problem I had was two of the screw holes seamed to be not drilled straight. This didn't cause much of a problem, just a little trouble putting the screw in.
Great cabinets, bought a bunch of them, easy to assemble and install.I like how they have their own hanging brackets so u can easily remove them from the wall when u need too. Cant beat the price. And they look great.
I got these about a month ago. Assembly was easy and the directions are what made it easy. Installation was also easy. I really like these cabinets they are solid and do exactly what I need them to do.
This is the second time I have purchased these products. The first time was for my home garage which included 3 work benches and 6 wall cabinets. I was impressed with the quality so when I re did my shop at work I added them to it as well. Realize you have to spend some time assembling and mounting them but the end result excellent.
Very satisfied with these cabinets, the packaging was great and they were easy to assemble. Wall mounting was a trick but they do look good.
Bought in December. The cabints were package very well. The instructions are the best and easiest to follow in have used! I am very pleased with the look, functionality and quality of these cabinets.
As in other reviews the quality of these cabinets is very poor with some of the panels are bent most likely before they are even shipped. After spending 20 minutes straighten out a couple of the panels I had the cabinet together and hung. That's when I noticed the door wasn't closing properly. No amount of tweaking seemed to help. So I gave up… then things got worse. I put a 5 lb item in the bottom and now the door won't even close. Just paper thin metal… just junk! I called the company to get replacement panels – NOW they admit that they get calls all the time that the panels seem to be bent before they are even shipped BUT now I must take picture and send emails to get replacement parts. Don't waste your time with this junk unless you are a metal working master and you are only going to store cotton balls in the cabinet.