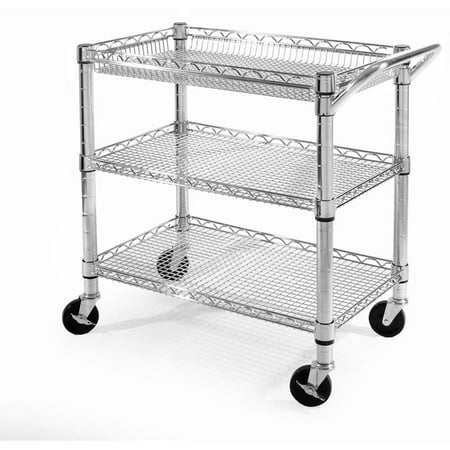 This versatile heavy-duty, multi-functional Utility Cart is constructed from industrial-strength UltraZinc-plated steel. The zinc plating process provides added corrosion resistance and is better for the environment (compared to chrome plating) as fewer harmful chemicals are used in the plating process. It's ideal for use in kitchens, warehouses, garages, offices and restaurants, and it simplifies the transporting of heavy and bulky loads. This steel wire utility cart is NSF certified for commercial use and comes equipped with beefy 1.5-inch diameter poles. The ventilated basket and shelves can be adjusted at one-inch intervals. This conveniently mobile cart comes with a steel handle push-bar, four heavy-duty PVC wheels (two are locking), and has an overall weight capacity of up to 500 pounds. This durable cart measures 33.75 inches wide by 18 inches deep by 32.25 inches high.
Seville Classics Heavy-Duty Utility Cart, Model# SHE99307ZB:
Includes 2 shelves
1 basket
Locking wheels
Weight capacity (even distribution): 500 lbs
Commercial-strength UltraZinc-plated steel
NSF certified
Easy assembly with no tools required
Dimensions: 33.75″W x 18″D x 32.25″H
reviews
I ordered this because I had a knee replacement and needed something study to carry my personal items as well as my school material, as I am an instructial assistant in school. It also helps to balance me better than my cane. Very sturdy and it looks good.when school is out it will go in my kitchen.
we bought this as a sample to see how it would hold up to our daily activities…so far it's doing great…we intend to buy 100 more of them if it works out…
Easy to put together and excellent in quality! Very multi purpose!
Okay, It's not supposed to be used with water, but it is perfect for my 20-gallon aquarium. The fit is good with about 3″ clearance on all sides. The cart is very stable, and the wheels will save me work when filling or emptying the tank. (Just remove about 6″ of water before moving the cart to avoid a soggy mess!) This cart looks much nicer than my old rusty stand and I didn't need to level it. The shelves are not only adjustable, they can be rearranged. I put the tray on the bottom. Since it's supposed to be on top I worried it may not be strong enough for the aquarium, which could weigh 180 lbs between water and gravel. I also put a shelf liner under the aquarium to provide a smooth surface and protect the cart. The advertised length of 33.75″ includes the handle. The shelves measure 29.75″ by about 17.75″. The tray is 3″ deep and narrows to 13″ wide at the bottom. The assembly is not really tool-free. The instructions suggest a rubber mallet, and you NEED a rubber mallet to fully tighten the shelves or loosen them for repositioning. A measuring tape and masking tape are helpful. Make sure you have everything right where you want it before tightening down. I had problems with the two-piece shelf retainers falling off and sliding down the poles when I started pounding the shelves down, so I held them in place with pieces of masking tape. When finally done, wow this is a great cart that should last a very long time.
Outstanding cart, easy and quick to assemble. Took less time to assemble that remove from shipping box. Great price. I highly recommend this cart.
Ordered this cart online to replace one that had a broken wheel. Shipped fast and easily put together. Good sturdy construction at a great price. Very pleased with this cart.
This is a very sturdy, well made cart. The shallow basket design allows us to be able to place items on tope of the shelves without having to worry about them sliding off. The nice chunky wheels makes it easy to maneuver. We will get many years of use out of this cart.
great quality, quite unexpected for Walmart. Loved it! Easy to assemble and very sturdy once together.