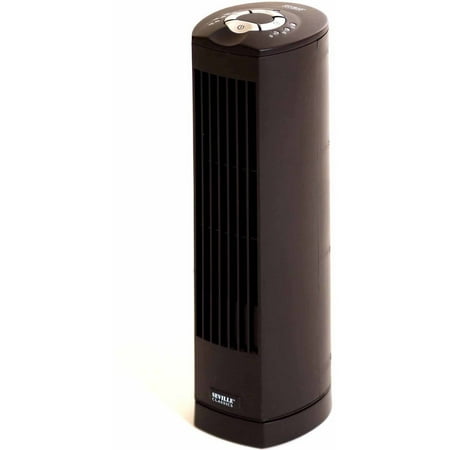 Always bring the cool breeze with you by using the UltraSlimline 17-Inch Oscillating Personal Tower Fan. Designed to be lightweight and compact, this personal fan can easily fit into any workstation such as an office, desk, dorm, cubicle, kitchen or garage. With three speed settings, optional timing selections (one, two or four hours) and oscillation, you can personalize the device to produce that perfect breeze. Note: UltraSlimline fans should be cleaned often when they are used frequently and over long periods to help extend the life and operability. The best ways to do this include wiping down the outside panels with a dry cloth, using compressed-air cans and using hand vacuums to remove the buildup of dust particles. They are not designed to be taken apart; review the manual for further information.
Seville Classics 17″ Personal Tower Fan, EHF10121:
Overall size: 5.5″W x 4.86″D x 17.25″H
Control panel: electronic designed with LED indicate light
3 airflow speeds: low, med, high
3 timing selections: 1 hour, 2 hours, 4 hours
Oscillation airflow feature
Finish: black
Portable tower fan has a sleek and stylish design
Suitable for small spaces, desks, countertops and workstations
Seville Classics tower fan offers super-quiet operation
Strong vertical band or air
1 push operation
UL listed
Powered by a 120V power cord
Weight: 4.1 lbs
reviews
This is a great little fan for a small area.
Very quiet an no bright lights on the control buttons which us great because we use it on the nightstand next to the bed.
So far so good…bought this for my son's bedroom and it is quiet and circulates the air well. He just wanted background noise to sleep and both of the floor stand fans that he had needed to be replaced. He doesn't have to trip over the stand anymore as this sits on his desk and out of the way…
This fan is just what I needed! I have a blood cancer which causes my face and neck to sweat. It puts out just the right amount of air to keep me from sweating and doesn't freeze out my husband. It sits on my end table or on my bedside table. It's perfect for my needs.
We were referred to this product by someone who has been using one for over 7 years. We were not disappointed after trying it out. It moves a lot of air quietly and effortlessly.
Was not packaged well at all. fan would roll back and forth and had a flimsy plastic cover over it. NOT happy with any packaging from Walmart so far. I'm in a wheelchair and if it wasn't so difficult, I would go to their store and purchase my items rather than ever having to resort to ordering online. They really need to check their packaging process, it is just terrible.
When I decided to buy two new fans for my apartment, I naturally chose the same that I already have had for years. The Seville Classics Tower Fan is attractive; it oscillates when I want it to and stays stationary when I want it to. I would recommend this item anyone who wants to buy a fan that doesn't take up much space and really does a great job. This is a quality product.
not that powerful and every time it turns it squeaks.