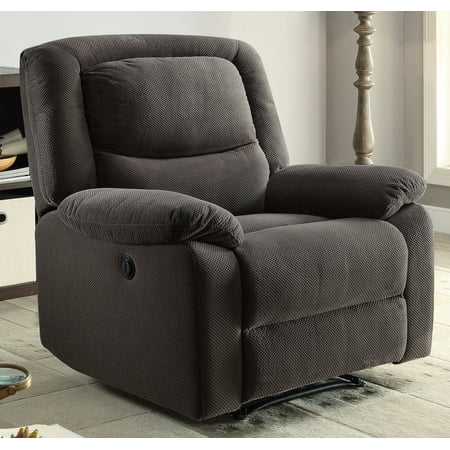 This Serta Power Recliner makes relaxing simple! Simple, push bottom power recline control to a fully recline position supported by a durable steel mechanism. The deep body cushions upholstered in plush fabric with soft pillow arm rests provide optimal comfort.
Serta Power Recliner, Grey:
Push-button power recline
Deep body cushions upholstered in plush fabric
Soft pillow arm rests
Durable steel recline mechanism
Full recline feature
Dimensions: 37.75″W x 38″D x 41″H
1-year warranty
Model# CR-47714
reviews
My father said that I need to write a review on this saying it is the best chair ever! He just had open heart surgery and needed a chair that was high and comfortable. He is 6 ft tall and the recliner foot is a little short, but we added two pillows and it has taken care of that problem.
Bought 2 of the chairs to replace the couch/bed and chair in motorhome. They do require about 4″ from the wall to fully recline. They seem to be made for taller people, I'm 5'7″ and when sitting all the way back in the chair my feet are inches off the floor. When not reclining I couldn't sit up straight, had to put a 18″ 2×4 under the back feet, much better now, easier to get in and out. I can't fault the chair for the way I'm built. They look good they are comfortable the price is great and I would recommend them.
I have a small space and this recliner is perfect, let me start with the size – its just right for the average to short person and i have a small space so this works. Chenille is really soft and better quality than microfiber in my opinion- the color is rich dark brown and compliments any woodwork. The cushions are awesome for someone with back pain – a little on the firm side – but absolutely works by hitting on all the right parts of your back and neck. I love the leg and foot design which is fully padded and very practical (great for the kitty or small dog) no flimsy sagging leg area. The power recliner was my main reason for buying as it gives you unlimited positions rather than just the three or four positions with a manual recline. Its a sturdy chair and was rather easy to assemble with no tools required. Id only maybe add a pocket on one side and move the recliner button back a little if i had to change anything about it, but i am very happy with this recliner – my elderly mother loves this chair and she's a hard sell. GREAT JOB Serta!
I searched for a power recliner that was not a rocker in every store in 2 cities. I was told by one well known store that all power recliners are rockers. I knew this wasn't true so continued the search on the internet. I found several overpriced recliners and decided to go on Walmart.com. What a surprise, there was everything imaginable for my home including a huge inventory of power recliners in my price range. I purchased a Serta brand and was sent emails regarding delivery date. My recliner was delivered to my front door 3 days earlier than promised. I love the chair, service and price and have told everyone I know not to forget about Walmart.com when shopping online. Thank you for the outstanding quality and service!!!

I ordered this in brown for my 90-year-old mother, & she is very happy with it! The best thing for her is that this has a motor that raises/lowers the footrest & backrest at the touch of a button — no strength required to recline or to 'kick' the footrest down. I thought that the footrest & backrest would work independently, but they do not. Once you raise the footrest all the way, the backrest starts to recline; once you put the backrest all the way up, the footrest starts to go down. You can stop it at any point, though, & it 'locks' in that position. The only drawback for her (she's 5'3″) is that the stuffing in the backrest stops about shoulder-level on her, so she has to use a little pillow for neck support when she reclines. (I think that a tall person's head might hang over the backrest.) The recliner is in two pieces that snap together without tools — easy! The hard part is that Serta packed it all in 1 huge, heavy box that would not fit through the door! We had to unpack it on the porch & carry the 2 pieces in separately. The backrest piece was fairly light, but the bottom piece was really heavy. It does make the recliner very sturdy & tip-resistant. It seems well made, but I got the Care Plan because of the electric motor. The fabric is 'nubby' & very soft. Mom is happy, so I am happy!

I am so disappointed with this chair. When I was making my choice between this and other chairs, it was the Serta name that I trusted. This is one of the most (if not THE most) uncomfortable chairs I have ever sat in. With some carefully placed pillows and enough fatigue, it is tolerable. Sorry WalMart and Serta. Gotta tell it like it is. My advice. Do NOT buy this chair. If I could afford it, I'd throw this one out and get a different one. Finances say I can't do that. I am old and pretty crippled up so physically I can't return it. I had some visiting relatives help me get it home and a few days later I unboxed it. Now I have it and am stuck with it. Money down the drain as far as I am concerned. Anybody got a hundred bucks? I'll gladly sell my very slightly used one to you. You have unwanted guests at your house? Seat them here and they won't stay long.